What if I told you that a two-millennia old economic pattern is about to reassert itself - and you can profit from not one but two Unstoppable Trends by getting in today?
Better yet, what if pundits were almost universally writing off what I am about to share with you, further clearing the way for savvy investors to enjoy the earliest windfalls and potentially the biggest gains, too?
Much of the media and many of the mainstream investment houses are ignoring this country. The IMF and Morgan Stanley are both forecasting dismal GDP growth in the next few years. Just last month, Bloomberg labeled its markets as being in an "amateur hour" phase.
So why is it that the elite are piling in?
For the same reason I'm telling you that it'll be a winner - because they know like we do that the hoi polloi is overlooking some key numbers - not to mention basic history. For 18 of the last 20 centuries, this juggernaut has been the world's largest economy. And with more than 7% growth last year, it's outpacing the United States to reclaim the title. Again.
What we're seeing is a seismic shift not just of global power but capital - and that will mean enormous profits for people who see it ahead of time.
Analysts are getting it wrong. Now you can profit before they have time to wake up.
Here's what's really going on in the world's fastest-growing economy.
What Analysts Don't Get About China
Most analysts are absolutely convinced that China's a nation on the verge of collapse.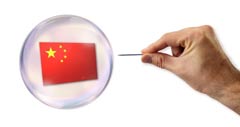 Chances are you've checked out the ghost city videos on YouTube and heard well-known professional short trader Jim Chanos (among others) going on about what a wreck the country is. If not, go take a look. They're great entertainment.
Lately the China-bashers have focused on a trifecta of data - rapid business growth, stagnating prices, and rising manufacturing wages that have tripled since 2006 - all of which imply that China's production costs are going up. The thinking is that profits must go down as a result.
Unfortunately, the logic is based on nothing more than the idea that "if it's happening in Europe, Japan, and the United States, it must be happening in China, too." They're making the most fundamental of all mistakes...
Join the conversation. Click here to jump to comments…
About the Author
Keith is a seasoned market analyst and professional trader with more than 37 years of global experience. He is one of very few experts to correctly see both the dot.bomb crisis and the ongoing financial crisis coming ahead of time - and one of even fewer to help millions of investors around the world successfully navigate them both. Forbes hailed him as a "Market Visionary." He is a regular on FOX Business News and Yahoo! Finance, and his observations have been featured in Bloomberg, The Wall Street Journal, WIRED, and MarketWatch. Keith previously led The Money Map Report, Money Map's flagship newsletter, as Chief Investment Strategist, from 20007 to 2020. Keith holds a BS in management and finance from Skidmore College and an MS in international finance (with a focus on Japanese business science) from Chaminade University. He regularly travels the world in search of investment opportunities others don't yet see or understand.