The Apple dividend is getting a fat raise in April.
In fact, Apple Inc. (Nasdaq: AAPL) is almost sure to raise its dividend at least 10%.
So let's take this one piece at a time. How can investors be so sure that the AAPL dividend is getting hiked next month?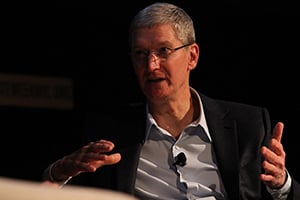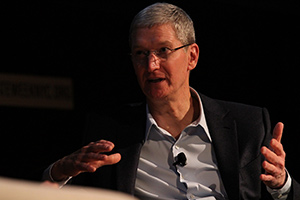 Certainly, the Cupertino, Calif.-based company's balance sheet can support it. As of January, Apple reported that it had $178 billion in cash and cash equivalents. And while $137 billion of that lies overseas, low interest rates mean Apple can sell bonds to get as much cheap money as it needs.
We also know that Apple has made a large commitment to returning cash to its shareholders. In addition to launching the dividend in 2012, Apple has spent nearly $70 billion on buying back shares of AAPL stock. It has authorized a total of $90 billion for buybacks.
The Apple dividend currently costs the tech giant $11.1 billion annually, although it can afford more. With a payout ratio of just 25%, Apple has the headroom to keep raising its dividend for years.
As for the timing, Apple has raised its dividend in April for the past two years. In fact, Apple has made the announcement on April 23 both years. (In April of 2012, the Apple dividend had not yet started.)
Plus, the dividend announcement coincides with Apple's March quarter earnings release. While unofficial as of now, most earnings calendars are listing April 21, 22, or 23 for AAPL's Q2 earnings release.
We know Apple will again use this event to raise its dividend because, well, it has said so publicly two years running. It even used the same sentence in both press releases: "The Company also plans to increase its dividend on an annual basis."
It doesn't get any clearer than that.
But how do we know the Apple dividend is going up by 10% or more?
These numbers don't lie….
Why the Apple Dividend Will Get a Steep Hike