The march to euro-dollar parity continued today (Wednesday) as the currency slipped below $1.06 for the first time since 2003.
In January, our 2015 euro forecast saw euro-dollar parity happening sometime in the first half of 2016.
"The trend of the euro is down," Money Morning Capital Wave Strategist Shah Gilani said back in January. "It would be virtually a miracle for the euro any time in the foreseeable future - meaning the next few quarters, at least, to a year or two - to turn around."
That's where the euro finds itself now. It's fallen 12.6% in 2015. And while it may seem oversold given its rapid descent, nothing in the Eurozone indicates it's preparing for a rally anytime soon.
If anything, this swift decline only suggests the numerous forecasts calling for euro-dollar parity understate the Eurozone's troubles. In January, analysts at Goldman Sachs said the euro could fall even further - to $0.90 - come 2018.
"I think Goldman analysts are too conservative," Money Morning Chief Investment Strategist Keith Fitz-Gerald said. He sees $0.90 as a possibility as early as 2016.
Here's why the euro is falling, and why euro-dollar parity is inevitable...
Euro-Dollar Parity Driver No. 1: The Start of Eurozone QE
The most immediate cause of the euro's lightning fast plunge is the start of quantitative easing. European Central Bank President Mario Draghi announced it in January, and it began Monday.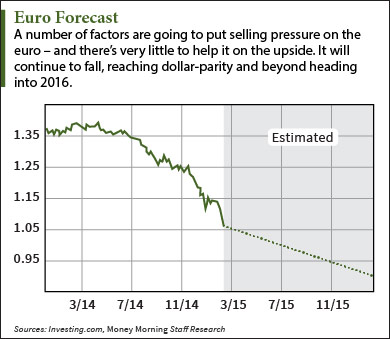 Eurozone QE was in the back of everyone's mind in 2012. That's when Draghi parroted the dovish central bank pledge to do "whatever it takes" to save the euro.
But back then, nobody batted an eye. The ECB is prohibited from financing individual member countries' debts, as per European Union treaties. And surely any move toward Eurozone QE would require some kind of legal battle.
That all goes without mentioning German obstinacy in the face of any inflationary monetary policy.
But in 2014, Eurozone QE looked to be inevitable.
Deflation fears first ramped up in March 2014. This is when bond traders poured into Eurozone debt. They wanted to get out in front of any QE measures that would drive down yields and push up the face value of those bonds.
That first signal was followed by discouraging reports.
Inflation fell to 0.7% in February - below expectations. Then at the end of March more reports rolled in to suggest inflation was at its lowest level in four years.
All signs pointed to Eurozone QE.
Draghi gained an important ally in late March. That's when Jens Weidmann, president of the German Bundesbank, said QE was not "generally out of the question." This cleared away an important roadblock to Eurozone QE - fierce German opposition.