As the volatility in oil prices has proven over the past several weeks, there is no roadmap for this new environment.
While traditional notions of supply and demand drive the knee-jerk reactions to gyrating prices, the truth is nobody has a clear read on where the market is going in the very near term.
However, the medium term is more easily identified.
And by medium term, I mean where oil prices will be by the end of the second quarter and shortly thereafter.
Over that time frame, the prospects are good for a move up...
Oil Prices: Forget About the Talking Heads on TV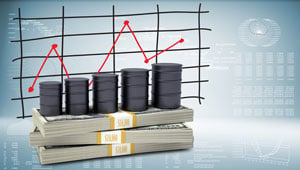 That's true despite the fact that crude oil prices are dropping again into a range that should see a near-term floor near $42 a barrel for West Texas Intermediate in New York and $52 a barrel for Brent in London.
Despite a weekly decline of almost 5.2% in New York and 4.4% in London through the close yesterday, there is actually little pressure for a protracted downward spiral in oil prices.
This is where it is important to distinguish what is actually supportable in this market versus the doom-and-gloom story touted by the talking heads on TV.
At the moment, the biggest concern affecting oil prices are the high surplus supply levels. This is especially true in the United States, but it is also emerging elsewhere in the world.
In fact, in its just released monthly report, the International Energy Agency (IEA) is now projecting a more prolonged oil glut than initially forecast. In particular, U.S. oil production jumped 115,000 barrels a day in February, which according to the report "would lead to renewed price weakness."
However, that's based on two factors that will simply not continue: production levels staying where they are, and a lack of capacity to store the excess production.
Now don't get me wrong. I am not suggesting that we are moving into an environment that will send us back to $90 a barrel by the end of the summer.
But I do believe oil prices will climb significantly by late August...
Join the conversation. Click here to jump to comments…
About the Author
Dr. Kent Moors is an internationally recognized expert in oil and natural gas policy, risk assessment, and emerging market economic development. He serves as an advisor to many U.S. governors and foreign governments. Kent details his latest global travels in his free Oil & Energy Investor e-letter. He makes specific investment recommendations in his newsletter, the Energy Advantage. For more active investors, he issues shorter-term trades in his Energy Inner Circle.