What is the price of oil today: Oil prices are hovering around their lowest levels in six years today (Monday) as investors disregard OPEC's forecast that U.S. output will halve by the end of 2015.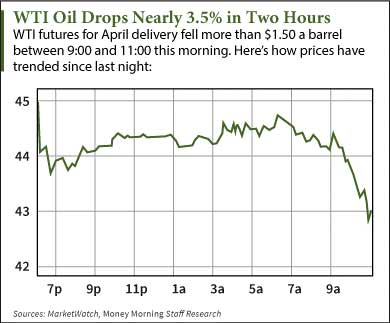 By 11:40 a.m., WTI oil prices were down 3.77% to $43.15 a barrel. Last week, WTI plummeted 9.6% and settled around $44.50 by Friday's close.
Brent oil prices were slightly more volatile, falling 3.87% to $52.88 a barrel. The London benchmark saw a massive drop last week as well – down 8.5% to close around $44.20 Friday.
In its monthly report released today, OPEC said growth in U.S. output would be cut in half this year. It noted that "a drop in production can be expected to follow, possibly by late 2015" due to the decreasing number of rigs.
"Naturally, lower rig count would suggest lower crude production; however, with new-well production on the rise, it is enough to taper off reductions in crude production," wrote Daniel Ang, investment analyst at Phillip Futures, in a report.
Make More Money This Year, No Matter What the Market Does… You can make 2015 your wealthiest year in a few simple moves. You just need the three common investing habits to dump immediately, the single most effective strategy for your portfolio, and five stocks to get you started to a wealthier you. Get all of that right now in this exclusive guide…
The International Energy Agency (IEA) said Friday that growth in U.S. oil production would slow rather than decline later this year. Its most recent monthly report said U.S. production rose by 115,000 barrels a day in February, which "would lead to renewed price weakness."
But there's one huge truth about the energy sector that the IEA doesn't account for in its projections. It will change the industry's landscape and raise oil prices to $65 a barrel by late August…
Why Oil Prices Will Go Higher
The oil and natural gas market is becoming a highly competitive environment. The mergers and acquisitions (M&A) cycle will heat up throughout the year, stirring competition that will provide plenty of fantastic opportunities.
M&A activity has already started in the MLP sector. Energy Transfer Partners LP (NYSE: ETP) recently acquired Regency Energy Partners LP (NYSE: RGP) in an $18 billion deal. After the transaction, ETP will be the second-largest MLP on the market behind Enterprise Product Partners LP (NYSE: EPD).
"As the M&A cycle kicks in, smaller, highly leveraged companies will become the targets of other American operating companies seeking to add to their book reserves by picking up assets at a market discount," explained Money Morning Global Energy Strategist Dr. Kent Moors.
The latest IEA forecasts also miss some very obvious pullbacks in the industry…
Here's where the IEA report gets it wrong – and why the low price of oil today means higher prices in the long term…
Follow me on Twitter: @AlexMcGuire92