U.S. market indexes plunged yesterday (Wednesday) and took the Japanese stock market with them.
The Nikkei 225, a Japanese stock market index tracking 225 Japanese blue-chips, fell 1.4% today. This was the day after a broad sell-off in the U.S. stock market.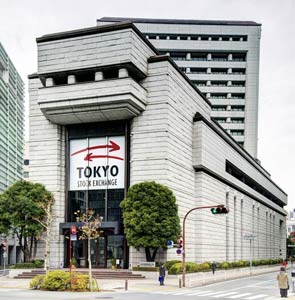 This was also a day after closing at 19,746.20 - a 15-year high for the Nikkei. On Dec. 29, 1989, it hit 38,916. In more than 25 years, it has yet to reestablish at those levels.
Today's plunge was brought on by the U.S. market sell-off. The Dow Jones Industrial Average fell 292 points. And the Nasdaq, which was having an otherwise great year, fell 118 points for its largest drop in almost a year.
The Japanese stock market will likely recover and keep surging despite this slight hurdle. But what's behind this surge - it has climbed 11.6% this year - is not a healthy economy. So investing in Japan right now should be done with a discerning eye.
You see, undergirding this Japanese stock market optimism is an aggressive push by the Bank of Japan to pump trillions of yen into the banking system...
Japanese Stock Market Boom Fueled by Easy Money
It all began in December 2012. That's when Prime Minister Shinzo Abe was swept into office. Decades of fighting deflation have ravaged consumer demand and stifled growth in Japan. And Abe decided to put his foot down with a bold economic plan known as "Abenomics."
Abenomics is a mix of policy initiatives aimed at bringing fiscal and monetary stimulus, as well as structural reforms, to a sluggish Japanese economy. Essential to the Abenomics platform is a rather large expansion of the monetary base. This program, conducted by the nation's central bank, is called "quantitative and qualitative easing."
Don't be fooled by the name. QQE looks very much like the quantitative easing pursued by the U.S. Federal Reserve.
QQE began on April 5, 2013. The BOJ wanted to expand the monetary base from 138 trillion yen ($1.2 billion), to 200 trillion yen ($1.7 trillion) by the end of 2013. And from there, they wanted to hit 270 trillion yen ($2.3 trillion) by the end of 2014.
The bulk of QQE was to come from purchases of Japanese government bonds. The BOJ planned purchases of these assets at an annual pace of 50 trillion yen ($419.7 billion). In addition, the BOJ would buy up index-linked exchange traded funds (ETFs) to the tune of a trillion yen a year ($8.4 billion). Then another 30 billion yen ($251.8 million) a month would go to buying Japanese real estate investment trusts (J-REITs).
QQE wasn't too effective in moving prices. Save for a huge 2.8% jump in the producer price index in April 2014 - which was sparked by a short-term boost in consumption by Japanese spenders looking to get purchases in ahead of a sales tax increase - there was really no inflation to speak of. At least not to the 2% level the BOJ was targeting.
Japan fell back into deflation in August 2014. This was when the producer price index fell 0.2%. It fell again by 0.1% in September.
On Oct. 31, the nation's central bank raised the stakes. At this point, the BOJ had purchased 124.2 trillion yen ($1 trillion) in bonds. The BOJ also tallied 1.9 trillion yen ($15.9 billion) in ETFs, and 48 billion yen ($402.9 million) in J-REITs.
The plan was ramped up on this day. Now, the BOJ planned to buy 80 trillion yen in bonds ($671.5 billion), 3 trillion yen ($25.2 billion) in ETFs and 90 billion yen ($755.5 million) in J-REITs a year.
Since then, not much has changed. The producer price index for February show prices didn't budge from January. And in January, they fell 1.3%. That was its fourth month in a row of decline. And it was the largest monthly drop since January 2009.
So while the markets may be rolling ahead, there's no healthy economy to support this rally.
And that points to the best way we can profit from QQE...