Wall Street pundits are claiming we are on the precipice of a biotech bubble because biotechnology stocks have been soaring. The Nasdaq Biotechnology Index has climbed 44% in the last year. The Nasdaq Composite and S&P 500 have climbed just 9% and 11% in the same time.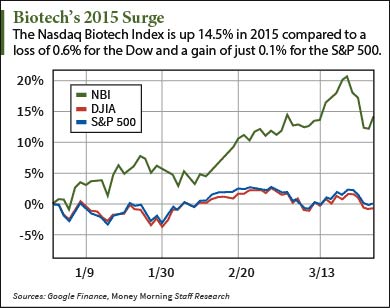 And major biotech stocks are reaping the benefits. Gilead Sciences Inc.  (Nasdaq: GILD), maker of the Hepatitis C blockbusters Sovaldi and Harvoni, has climbed 38% in the last year. The $100 billion Biogen Inc. (Nasdaq: BIIB) is up almost 40% since last March. Cancer drug developer Amgen Inc. (Nasdaq: AMGN) is up 34% in the last 12 months.
But it's the last week that has traders panicked about "bubble" territory.
From March 20 through March 26, the Nasdaq biotech index dipped 7%. The S&P biotech index dropped almost 11%.
And Wall Street experts are perpetuating the fear.
"To us, shares of biotech companies find themselves entering bubble territory," Cheviot Value Management's Portfolio Manager Darren Pollock told The Wall Street Journal. "We think investors are applying too high a success rate on biotech molecules."
These tremors could signify a correction in the coming months - but make no mistake - the "bubble" is not about to burst on biotech stocks...
This Is Not a Biotech Bubble
Not only is this not bubble territory, but the Nasdaq biotech index hasn't even reached a market correction yet.
A correction is defined as a 10% drop from a market's high. A bear market is reached after a 20% dip.
Now, let's compare that to a "bubble" bursting. When that happens, there's a cataclysmic crash in the market.
Take the 1992 biotech crash for instance. From the end of November 1992 through the beginning of March 1993, the Nasdaq biotech index tanked more than 55%.
Money Morning's Biotech Investing Strategist Ernie Tremblay says this recent pullback is normal for the market...
"The correction we're seeing now seems to happen every year at about this time, like clockwork," Tremblay said. "There are always things going on in the news that seem to explain the drop, but the meta-picture is simply this: the market breathes in, and the market breathes out."
This situation is very similar to last year's - take a look...