When word got out Friday that Intel Corp. (Nasdaq: INTC) was in talks to buy fellow chipmaker Altera Corp. (Nasdaq: ALTR), Intel stock rose 6.4%.
That tells you how much this deal would benefit Intel. Usually the prospect of a large acquisition causes a drop in the stock of the company doing the buying as investors worry about fresh debt and possible complications.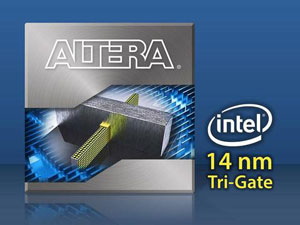 The deal also shows how serious Intel is about re-establishing its global leadership as a chipmaker. The sting of missing out on the mobile revolution continues to haunt the Santa Clara, Calif.-based company.
Buying Altera fits with Intel's strategy of going after new growth markets like wearable tech and Big Data. Altera's chip technology is widely used in data centers.
According to The Wall Street Journal, which broke the story, Intel and Altera are in "advanced talks." The price is unknown, but a 25% to 30% premium on Altera's value before word got out puts the potential deal in the neighborhood of $13 billion.
Altera's market cap surged from $10.4 billion before the news to $13.4 billion as of Friday's close, with ALTR stock up 28%. Today (Monday) Altera stock has pulled back about 4%. INTC stock was giving back ground Monday, down about 1.5% to $31.50.
The deal would be Intel's biggest ever. And the price will just about double Intel's debt. But it's something Intel needs to do.
Intel's Quest for Growth in a Post-PC World
You see, Intel is at a crossroad.
INTC stock is up about 22% over the past year, but has slumped more than 13% in 2015 as the outlook for its PC business continues to dim.
Two weeks ago the company slashed its revenue forecast for the first quarter based on lower PC sales. Intel still dominates that market, but knows it needs to look elsewhere for growth.
Attempts to catch up in mobile have not gone well. To encourage use of its mobile chips, Intel has heavily subsidized the cost to netbook and tablet makers.
Those subsidies have resulted in modest market share gains but huge losses – $3 billion in 2013 and $4.21 billion last year.
Intel's wearable tech strategy – with its tiny "Quark" system-on-a-chip and Edison, a computer that fits on an SD card – shows more promise. But it's still early in the game for wearable tech.
The one area with the most potential to drive Intel stock right now is its data center business.
And that's where an acquisition of Altera could make a major impact…