I love the payments industry.
I love corporate spin-offs.
And I love the buyouts that so often follow spin-offs.
Getting all three of these in one deal would be a grand slam that really juices your profits.
For the deal I'm bringing to you today, we're guaranteed the first two.
And if that spin-off gets bought out, we'd have a really big winner on our hands.
Here's how I think this "grand slam" will come together…
When Divorce Is Profitable
Here we have a "legacy" tech firm that plans to spin off its much faster-moving payments unit later this year.
In this transaction, you'll buy shares in one company now. And after the larger firm separates that payments business into an independent, publicly traded company – a "spin-off" – you'll end up with investments in two great companies.
And that second stock will be free – you won't have to lift a finger or pay another dollar to get it.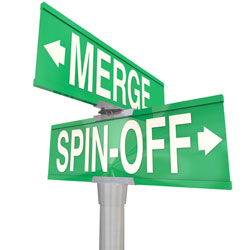 Years of research shows us that new spin-offs usually beat the market by double digits for up to three years – so we already have a pretty good deal going here.
However, I believe this separated company will be very attractive to several suitors within the $1.6 trillion payments industry, which is rapidly changing and growing due to near-daily innovations in mobile technology and e-commerce.
A corporate breakup is almost always a rallying point for the new company's stock.
The reason is simple. As companies bulk up over the years, their sheer size and complexity often serve as a brake on their fastest-growing units.
In fact, the more disruptive the technology, the more likely the spun-off firm will outperform both its parent and smash the overall market.
If you're not convinced, just look at that research.
Lehman Bros. studied 85 spin-offs between 2000 and 2005 and found that they beat the Standard & Poor's 500 Index by as much as 45% in their first two years as independent companies.
Moreover, the further you look back, the brighter the picture.
Two professors at Penn State University examined 30 years of market data covering 174 spin-offs. Their study revealed that in the first three years of operations these new companies showed price appreciations of 76%, beating the S&P 500 by 31%.
The corporate spin-off I want to share with you today, I believe, will do even better.
Join the conversation. Click here to jump to comments…
About the Author
Michael A. Robinson is one of the top financial analysts working today. His book "Overdrawn: The Bailout of American Savings" was a prescient look at the anatomy of the nation's S&L crisis, long before the word "bailout" became part of our daily lexicon. He's a Pulitzer Prize-nominated writer and reporter, lauded by the Columbia Journalism Review for his aggressive style. His 30-year track record as a leading tech analyst has garnered him rave reviews, too. Today he is the editor of the monthly tech investing newsletter Nova-X Report as well as Radical Technology Profits, where he covers truly radical technologies – ones that have the power to sweep across the globe and change the very fabric of our lives – and profit opportunities they give rise to. He also explores "what's next" in the tech investing world at Strategic Tech Investor.