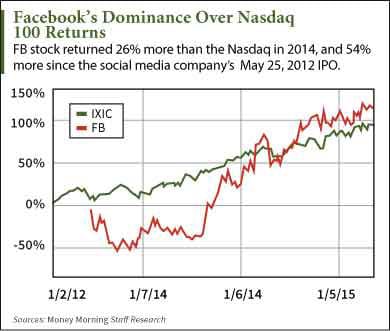 Facebook stock (Nasdaq: FB) is up 117% since its May 25, 2012, IPO. The social media king has crushed Nasdaq returns by 54% since the debut, and by 26.79% last year alone.
What's fueling Facebook's generation of a $231 billion market cap?
For one thing, FB's user base is massive - and continues to grow. The firm has more monthly active users (MAUs) than any other social media company at 1.39 billion (and 1.19 billion on mobile).
For another, it figured out how to monetize through advertising. In the most recent Facebook earnings, ad revenue rose from $2.9 billion to $3.5 billion in only one quarter.
But user growth and ad success are just two of the puzzle pieces within a larger strategy - one that's helped propel FB stock from $38 a share to nearly $85 a share and morphed Facebook into the biggest social media network in the world.
The Single Strategy That Doubled Facebook Stock (Nasdaq: FB)
Money Morning Capital Wave Strategist Shah Gilani knew, even when Facebook stock fell below $20 a share in late 2012, the company had tremendous promise.
"Every time I look at, or think about, what Facebook is doing strategically, I can't help but get excited - feeling as if this is a chance to buy a really good stock at a really good price point," Gilani said nearly a year ago today in April 2014.
The strategy Gilani was talking about back then is one the company still holds fast to now: growth and dominance through the right mergers and acquisitions.
Facebook has bought 49 companies in the last five years.
Already in 2015, Facebook has picked up three more in tech M&A deals: speech recognition software Wit.ai on Jan. 6, video compression company Quickfire on Jan. 8, and e-commerce firm TheFind on March 14.
But the key behind FB's M&A strategy isn't just to purchase a lot of smaller companies willy-nilly - it's buying the right firms.
Gilani knew he liked Facebook's M&A strategy when Founder and CEO Mark Zuckerberg had this to say after FB bought Oculus, a virtual reality tech firm, on March 25, 2014.
"Mobile is the platform of today, and now we're also getting ready for the platforms of tomorrow," Zuckerberg said. "Oculus has the chance to create the most social platform ever and change the way we work, play, and communicate."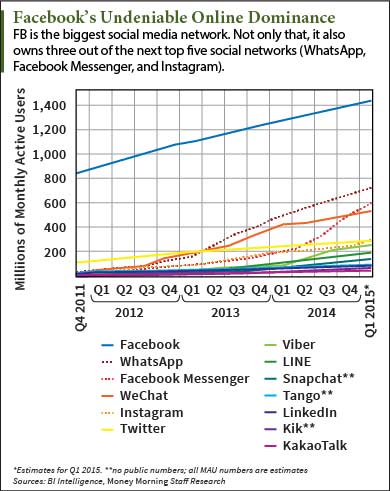 Just look how the approach has paid off.
Facebook itself is the biggest social media network in terms of MAUs.
But the company also owns the next biggest social media network, WhatsApp.
And it owns the third-biggest, Facebook Messenger...
...and the fifth-biggest, Instagram.
Facebook owns four out of the five largest social platforms in existence.
"Zuckerberg is showing folks that he's not afraid to use Facebook's big stock price as 'currency' to do deals," Gilani said. "I believe Facebook's acquisition strategy has been great. As long as Zuck keeps using his stock as currency to buy into the future, I'm behind him."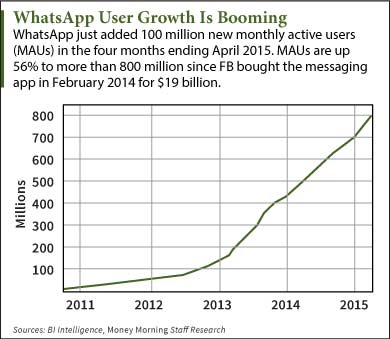 Facebook's monthly active user base is expected to surpass 1.43 billion in the first quarter of 2015. Facebook-owned WhatsApp, the largest messaging app with 725 million MAUs, is also on fire.
In a FB post on April 17, WhatsApp Cofounder and CEO Jan Koum said his messaging app added another 100 million unique active users in the first four months of 2015 alone.
That brings WhatsApp's total global users up to more than 800 million individual users each month - double the user base it had when Facebook acquired it on Feb. 19, 2014.
It turns out the $19 billion buy was a good one.
FB stock is already up more than 8% in 2015.
If the company can stick to this kind of M&A formula, Facebook stock - and its investors - is in for more success.
"If anybody can monetize their visualization product ideas, I believe that Zuckerberg can," Gilani said. "He clearly has a vision for what Facebook should be, and that vision keeps evolving as the market changes. This is not a guy who should be underestimated."
Cash In on Tech Stocks in 2015: All the ingredients are now present for a multiyear run in tech stocks that will dwarf anything we've seen before - creating a slew of new tech millionaires. Make the right moves and you can be one of them. Tech expert Michael Robinson will show you exactly what to do with his just-released 2015 Tech Investor's Forecast...7 specific tech stocks to buy right now that could create Alibaba-like wealth this year. Download it here for free...
Follow me on Twitter @TaraKateClarke.