Someone I love very much – in fact, a family member I idolize – was recently diagnosed with Parkinson's disease. We are all in shock, and some members of my family are very frightened.
But I made a decision. Instead of being frightened, I'm going on the attack. As transformational thinking lecturer (and "est" founder) Werner Hans Erhard advocates, I'm going to be "cause in the matter."
So I've given myself a mission... to do my part to help find a cure.
And it's an opportune time...
Major diseases like Parkinson's, Alzheimer's, and diabetes have a new enemy: research initiatives that attack them from fantastic new angles – yielding new protocols and medicines that can stop these maladies in their tracks or even reverse their chilling effects.
I'm not talking about "old school" drug protocols or research. I'm referring to the new healthcare and research Disruptors that I've been watching – and that are everywhere.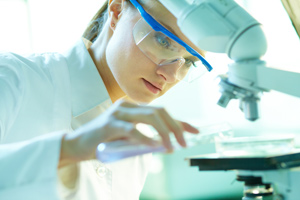 A powerful confluence of catalysts is making this possible, including new science, new technologies, and even new policies at the U.S. Food and Drug Administration (FDA) such as a groundbreaking "Fast Track" designation that slashes the time it takes to get new drugs into the hands of the patients who need them.
My resolve to help fight Parkinson's – as well as the other terrible diseases I mentioned – has already gained me access to some rarefied circles. I've been asked to join the board of an extraordinary company whose partnering doctors head up the research units in their respective medical specialties at the top hospitals in the United States.
I'm also helping raise money for research – which includes making contributions myself.
The doctors I'm backing are leaning into the future in a big way. The head of the research-and-development company I'm involved with previously ran a giant pharmaceutical company. He's now attacking the diseases his old pharma company treated with drugs by developing completely new protocols to stop diseases from spreading and eventually reverse the damage that they do.
I'm not permitted to reveal the name of the company I'm working with just yet.
But I will make this promise: Over time – as we crusade toward our goals of arresting the spread of the diseases we're attacking and advance development of reversal protocols – I will be able to share some of what we're learning, how trials are going, and how our success will benefit everyone.
Eventually, there may even be ways for you or your loved ones to get into trials (we're not there yet, but getting closer) by participating directly through new healthcare Disruptor tools like iPads and iPhones.
Meanwhile, we can invest in the Disruptor players, a move that will have dual benefits. It will not only aid the eventual defeat of these dreaded diseases, but it will allow us to profit from the full-frontal assault on them.
And that's what we're going to start looking at today...
A True "Game-Changer"
As you probably gleaned from my reference to iPhones and iPads, Apple Inc. (Nasdaq: AAPL) is a focus of interest for me – a true Disruptor company whose muscle is changing an array of sectors, markets, and disciplines.
The Cupertino, Calif.-based company and its stock obviously benefits from heavy analyst and media coverage – some might even say over-coverage.
Even so, because of the way I'm looking at this, you're in for a beautiful awakening.
Tim Cook, Apple's brilliant and visionary chief executive officer, recently appeared on Jim Cramer's CNBC's "Mad Money" 10th anniversary show, where he discussed the impact of the soon-to-ship Apple Watch on medical research through the company's ResearchKit open-source software framework. He told Cramer that the effect "has been so strong that, within the first 24 hours of announcing the ResearchKit, some 11,000 people signed up for a study in cardiovascular disease through Stanford University."
In fact, Cook told Cramer "it would typically have taken 50 medical centers an entire year to sign up that many people."
Here's an example.
In a ResearchKit case study, Kathryn H. Schmitz, professor of epidemiology in biostatistics at the University of Pennsylvania's Perelman School of Medicine, recounted how they mailed printed fliers to 60,000 women and got only 305 to reply and sign up for a research project. She calls ResearchKit and Apple's related HealthKit a "game-changer."
And the disruptions don't stop there.
Just on April 13, International Business Machines Corp. (NYSE: IBM) announced a far-reaching new partnership with Apple. IBM is linking its HIPAA-enabled Watson Health Cloud up with Apple's HealthKit and ResearchKit. In conjunction with additional partners Johnson & Johnson (NYSE: JNJ) and Medtronic Plc. (NYSE: MDT), IBM and Apple will develop "enterprise wellness apps" made possible by the merged medical and health data gleaned from Apple devices.Watson's job will be to facilitate data-mining and provide predictive analytics.
The University of Rochester and Seattle nonprofit Sage Bionetworks are also working together to create the Parkinson's research app, mPower, using Apple's ResearchKit.
According to Sage, "mPower aims to make it easier for people to sign up for studies and providing consent to do so. The app can detect symptoms in Parkinson's patients just by having them say 'ahhhh' into the phone. It also includes a finger-tapping feature that can detect symptoms, too. Finally, the app can analyze the user's gait and balance by having them walk 20 steps then turn around and take 20 steps back."
The Next Sector to Be Upended
As far as making money as you help with the assault on these terrible diseases, one way is to own Apple stock. Because of the "ecosystem" it is creating, Apple's long-term financial health is, by design, tethered to the future health of the world.
That's big, and it's going to make Apple one of the world's most critical companies. In turn, the company will become even more profitable and a fantastic long-term investment for decades to come.
While Apple is the first investment idea I love because it is a healthcare Disruptor in every sense of the word, I'm following others, too.
You'll be reading about them here for some time to come.
But I'm not done with explaining how Apple's products are "cause-in-the-matter" Disruptors.
I know of at least one other industry – not healthcare, but related – the new Apple Watch is going to disrupt. It's an industry you never imagined would ever change. And there's money to be made there, too.
I'll tell you what that industry is later this week.
In the interim, however, I will give you a hint – so see if you can guess what it is.
The hint: This industry is both hated and loved. It's hated, because it costs us a lot of money. It's loved, by some, because it saves us a fortune.
We're going to fill you in on a secret. A big one. It's a secret that we use in our own work – in fact, it serves as the framework for everything we do. And if you embrace it, you'll find that this secret will pave the way to life-changing wealth. Here's the scoop on we call "welcome disruptions"...
About the Author
Shah Gilani boasts a financial pedigree unlike any other. He ran his first hedge fund in 1982 from his seat on the floor of the Chicago Board of Options Exchange. When options on the Standard & Poor's 100 began trading on March 11, 1983, Shah worked in "the pit" as a market maker.
The work he did laid the foundation for what would later become the VIX - to this day one of the most widely used indicators worldwide. After leaving Chicago to run the futures and options division of the British banking giant Lloyd's TSB, Shah moved up to Roosevelt & Cross Inc., an old-line New York boutique firm. There he originated and ran a packaged fixed-income trading desk, and established that company's "listed" and OTC trading desks.
Shah founded a second hedge fund in 1999, which he ran until 2003.
Shah's vast network of contacts includes the biggest players on Wall Street and in international finance. These contacts give him the real story - when others only get what the investment banks want them to see.
Today, as editor of Hyperdrive Portfolio, Shah presents his legion of subscribers with massive profit opportunities that result from paradigm shifts in the way we work, play, and live.
Shah is a frequent guest on CNBC, Forbes, and MarketWatch, and you can catch him every week on Fox Business's Varney & Co.