The WTI crude oil price saw more gains today (Wednesday) after the Energy Information Administration (EIA) reported better-than-expected supply data.
Shortly before 11 a.m., WTI oil dropped more than 1.5%. WTI had recovered by noon, gaining 0.59% to $61.11 a barrel.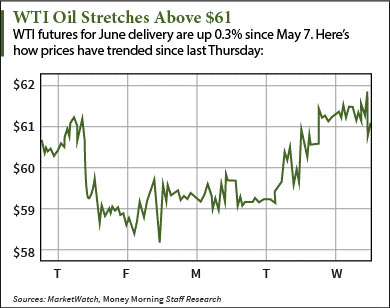 Brent oil prices were up 1.16% and trading at $68.16. The London benchmark has surged 4% since Monday.
Futures rose after the EIA reported a second-straight weekly decline in U.S. crude inventories. Supplies decreased 2.2 million barrels last week. Analysts polled by Platts had predicted a decrease of only 250,000.
Despite the supply dip, U.S. oil production actually increased last week. According to The Wall Street Journal, output rose by 5,000 barrels a day to 9.37 million barrels a day.
The WTI crude oil price has been volatile over the last week. It saw a huge one-day drop of 3.3% on Thursday, May 7. It gained 0.8% Friday day before falling 0.2% Monday.
According to Money Morning's Global Energy Strategist Dr. Kent Moors, short-term volatility is to be expected.
But oil prices will follow a "ratcheting" upward trajectory through the rest 2015…
How the WTI Crude Oil Price Will Move in 2015
Because the cost of oil is measured in dollars, many other factors can depress prices. That includes rising interest rates and the overall strength of the dollar. These influences can cause knee-jerk downward reactions in prices.
But the WTI crude oil price will gradually rise thanks to dwindling supply and increasing demand.
"One thing is clear," Moors noted. "The ratcheting effect I have been talking about – in which oil has an overall trajectory in one direction (in this case up) despite volatility in the other – is taking shape."
Still, many TV pundits and oil analysts assert that DUC ("Drilled but UnCompleted") wells will bring down prices.
They argue any price surge will prompt companies to complete these unfinished wells in order to earn more revenue. This would flood the market with more product and effectively decrease prices again.
But those "experts" are horribly wrong. Here are the two biggest reasons why…
Never miss a WTI crude oil price update. Follow us on Twitter at @AlexMcGuire92 and @moneymorning.
Related Articles: