What I am about to tell you could reshape labor markets and, in the process, create an entirely new group of millionaires savvy enough to cash in.
Here's the scoop.
Last year I told you about one of the most inspirational companies I've ever visited, Ekso Bionics Inc. (OTCBB: EKSO).
At the time, the company was almost completely off the radar and totally unknown to both investors and analysts alike.
I promised you that wouldn't be the case for long because the company had something other small startups didn't: real products, real customers, and applications that potentially extended sales far beyond the medical and military markets it had initially targeted.
I also told you that the company would attract a lot more capital down the road once others saw the potential… as long as management continued to produce results.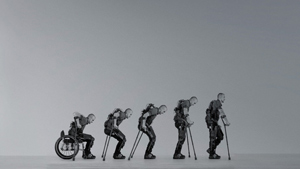 I've italicized that word because good ideas are a dime a dozen. Over the course of 35 years of analyzing companies, I've seen more than a few seemingly great companies blow up because they couldn't execute. For every Apple or Google, there are thousands of startups that didn't make it.
That's why I'm so focused on seeing what's next. It's also why I won't recommend any company to you without the potential to double in five years or less… at a minimum.
By all accounts, Ekso Bionics is on track and producing results that make it more valuable by the day.
Here are a few key excerpts from last week's earnings release:
Year-over-year revenue growth is 54.55%.
Ekso Labs just received its second government contract this year and is now working on its third U.S. government exoskeleton project.
The company has had an additional three patents granted.
The company's first distributor is now fully certified and trained up.
Ekso's now sold and/or rented 125 medical devices to more than 90 customers, including 12 with multiple units on location. Of note, medical revenue is up 87%.
Ekso is now field testing new proto types and has made several new key hires, including Tom Mastaler, the former head of global operations for Milwaukee Electric Tool Corp.
And last but not least, the company turned in a net loss of only $4.1 million or $0.04 per share, versus a net loss of $81.8 million the same period in 2014.
It's no wonder analysts are finally coming around. Though "falling all over themselves" is more like it…
Join the conversation. Click here to jump to comments…
About the Author
Keith Fitz-Gerald has been the Chief Investment Strategist for the Money Morning team since 2007. He's a seasoned market analyst with decades of experience, and a highly accurate track record. Keith regularly travels the world in search of investment opportunities others don't yet see or understand. In addition to heading The Money Map Report, Keith runs High Velocity Profits, which aims to get in, target gains, and get out clean, and he's also the founding editor of Straight Line Profits, a service devoted to revealing the "dark side" of Wall Street... In his weekly Total Wealth, Keith has broken down his 30-plus years of success into three parts: Trends, Risk Assessment, and Tactics – meaning the exact techniques for making money. Sign up is free at totalwealthresearch.com.