What I am about to tell you could reshape labor markets and, in the process, create an entirely new group of millionaires savvy enough to cash in.
Here's the scoop.
Last year I told you about one of the most inspirational companies I've ever visited, Ekso Bionics Inc. (OTCBB: EKSO).
At the time, the company was almost completely off the radar and totally unknown to both investors and analysts alike.
I promised you that wouldn't be the case for long because the company had something other small startups didn't: real products, real customers, and applications that potentially extended sales far beyond the medical and military markets it had initially targeted.
I also told you that the company would attract a lot more capital down the road once others saw the potential... as long as management continued to produce results.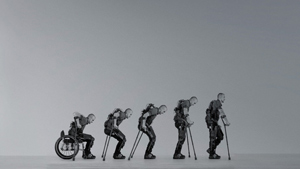 I've italicized that word because good ideas are a dime a dozen. Over the course of 35 years of analyzing companies, I've seen more than a few seemingly great companies blow up because they couldn't execute. For every Apple or Google, there are thousands of startups that didn't make it.
That's why I'm so focused on seeing what's next. It's also why I won't recommend any company to you without the potential to double in five years or less... at a minimum.
By all accounts, Ekso Bionics is on track and producing results that make it more valuable by the day.
Here are a few key excerpts from last week's earnings release:
Year-over-year revenue growth is 54.55%.
Ekso Labs just received its second government contract this year and is now working on its third U.S. government exoskeleton project.
The company has had an additional three patents granted.
The company's first distributor is now fully certified and trained up.
Ekso's now sold and/or rented 125 medical devices to more than 90 customers, including 12 with multiple units on location. Of note, medical revenue is up 87%.
Ekso is now field testing new proto types and has made several new key hires, including Tom Mastaler, the former head of global operations for Milwaukee Electric Tool Corp.
And last but not least, the company turned in a net loss of only $4.1 million or $0.04 per share, versus a net loss of $81.8 million the same period in 2014.
It's no wonder analysts are finally coming around. Though "falling all over themselves" is more like it...
Join the conversation. Click here to jump to comments…
About the Author
Keith is a seasoned market analyst and professional trader with more than 37 years of global experience. He is one of very few experts to correctly see both the dot.bomb crisis and the ongoing financial crisis coming ahead of time - and one of even fewer to help millions of investors around the world successfully navigate them both. Forbes hailed him as a "Market Visionary." He is a regular on FOX Business News and Yahoo! Finance, and his observations have been featured in Bloomberg, The Wall Street Journal, WIRED, and MarketWatch. Keith previously led The Money Map Report, Money Map's flagship newsletter, as Chief Investment Strategist, from 20007 to 2020. Keith holds a BS in management and finance from Skidmore College and an MS in international finance (with a focus on Japanese business science) from Chaminade University. He regularly travels the world in search of investment opportunities others don't yet see or understand.