I want to give you a truthful look at what's happening in the single most underestimated, misunderstood, and perpetually disrespected country on earth: China.
We'll examine why China's stock market is creating an ideal moment to invest, how savvy investors are jumping in, and what steps you can take to join them (including three investments you can make today).
Here's everything you need to know…
Analysts Have Helped Create a $28.3 Billion Disconnect in World Markets
The latest "paranoid punditry" is coming from the head of emerging markets and global macro at Morgan Stanley Investment Management, Ruchir Sharma.
Speaking this week at the Global Private Equity Conference in Washington, D.C., he said he's of the opinion that the worst of the Chinese economic slowdown is still ahead because of the nation's debt. Specifically, he noted that whenever a country increases its debt to GDP sharply over five years, there's a "70% chance of a financial crisis and 100% chance of a major economic slowdown," as reported by Yahoo! Finance. The implication, of course, is that China's going to see the same.
Respectfully, I really wish guys like Sharma would crawl into a hole somewhere. Their version of doom and gloom just isn't true. China's latest market rally began in Q2/2014 and tacked on 128% through the end of April.
Sharma is essentially making the same argument that many others have made for the last 40 years… and for 40 years they've been dead wrong.
Here's where China's got key advantages.
1) Growth
So what if China's growth falls from 7% to 5%…? The United States will be lucky to do just 2% after spending trillions of dollars! You're still talking about a country with a growth rate that's double or even triple our own. Any central banker around the world will love to have those numbers.
Even if you can't mentally get past that point about growth – and lot of people can't for a variety of reasons – take a look at this chart.
2) Capital
China's got around $4 trillion USD in reserve. That means Beijing can recapitalize China's banking system several times over and still have change left. (Meanwhile, the United States is $220 trillion in the hole.)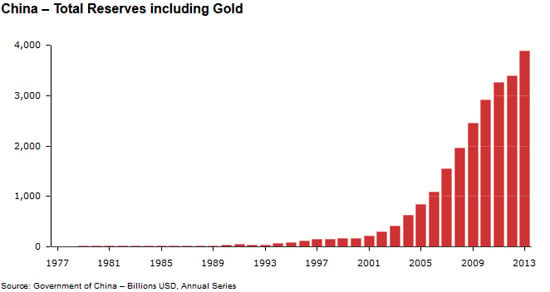 There's no question China can "term out" the debt and take a page from our politicians by kicking the can down the road – a point Robert Petty of Clearwater Capital Partners made that echoes my own in response to Sharma's observations.
Keep the numbers you hear in perspective. Here's what I mean…
Join the conversation. Click here to jump to comments…
About the Author
Keith is a seasoned market analyst and professional trader with more than 37 years of global experience. He is one of very few experts to correctly see both the dot.bomb crisis and the ongoing financial crisis coming ahead of time - and one of even fewer to help millions of investors around the world successfully navigate them both. Forbes hailed him as a "Market Visionary." He is a regular on FOX Business News and Yahoo! Finance, and his observations have been featured in Bloomberg, The Wall Street Journal, WIRED, and MarketWatch. Keith previously led The Money Map Report, Money Map's flagship newsletter, as Chief Investment Strategist, from 20007 to 2020. Keith holds a BS in management and finance from Skidmore College and an MS in international finance (with a focus on Japanese business science) from Chaminade University. He regularly travels the world in search of investment opportunities others don't yet see or understand.