Five of the world's biggest banks pleaded guilty on Wednesday to manipulating foreign currency rates for their own benefit. They will now pay a combined $5.6 billion in penalties.
A sixth bank, Bank of America Corp. (NYSE: BAC), will pay $210 million after being fined by the Fed.
This chart shows how much the banks were fined this week: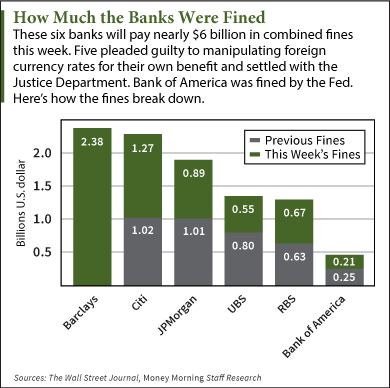 Barclays Plc. (NYSE: BCS) will pay the most at $2.38 billion. Citigroup Inc. (NYSE: C) is second with a $1.27 billion fine.
JPMorgan Chase & Co. (NYSE: JPM) will pay $1 billion, Royal Bank of Scotland Group (NYSE: RBS) will pay $670 million, UBS Group AG (NYSE: UBS) will pay $550 million, and Bank of America will pay $210 million.
BCS, C, JPM, and RBS pleaded guilty Wednesday to manipulating prices for U.S. dollars and euros. According to The Wall Street Journal, that's a $500 billion-a-day market. UBS pleaded guilty for manipulating Libor - the London Interbank Offered Rate, or the rate the world's biggest banks charge each other for short-term loans.
Bank of America didn't face the same probe from the Justice Department, but will pay a $205 million settlement after the Federal Reserve found the bank was using unsound practices in foreign exchange.
With this week's settlements, big banks have now paid more than $60 billion in fines over the past two years. Criminal actions have included tax evasion, manipulative trading actions, and mortgage load issues.
While the fines seem massive, Money Morning's Capital Wave Strategist Shah Gilani says the penalties amount to little more than a slap on the wrist...
How Much the Banks Were Fined Means Little
"Now we know all the big banks are above the law," Gilani said. "They are convicted, they admit their guilt, and no-one goes to jail, they just pay more fines."
"'Too Big to Fail' banking is just a superhighway toll road paved with manipulation, fraud, and criminality that leads to egregious profitability."
Gilani points to UBS's non-prosecution agreement with the Justice Department as a sign that the U.S. government is acting like a toll collector to the big banks. No real damage is done to these banks, allowing them to continually pay the government for their nefarious behavior.
Read more from Shah Gilani, including his take on Big Banks...
Double Your Money on the World's Most Valuable Company: Money Morning's Tom Gentile has found one small move that can help you make a 100% profit on a popular stock, all within the next 27 days. Here's how you can find out the step-by-step process to doubling your money...
Follow me on Twitter: @KyleAndersonMM