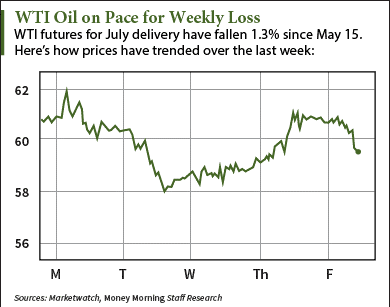 The crude oil price today (Friday) dropped below $60 in morning trading. The tumble erased most of Thursday's gains and put oil prices on track for a weekly loss.
At 9:40 a.m., WTI oil was down 2.06% and trading at $59.45 a barrel. Although it gained about 3% yesterday, WTI has lost 1.3% since last Friday and 1.5% in May so far.
The Brent crude oil price today was slightly less volatile. It traded down 2.04% at $65.18 a barrel. The international benchmark has fallen 1.6% this week and 3% this month.
The crude oil price today has moved inversely with the dollar. The WSJ Dollar Index, which tracks the dollar against a basket of other currencies, rose 0.56% this morning.
Some analysts attribute oil's rally in recent weeks to the weakening U.S. currency. Oil is priced in dollars, meaning it becomes more expensive to foreign buyers when the currency surges.
Additionally, investors are waiting for fresh U.S. drilling data. Early this afternoon, Baker Hughes Inc. (NYSE: BHI) will release the latest number of active oil rigs.
There are 660 active oil rigs in the United States as of May 15. That's a massive 59% drop from 1,609 rigs back in October. But the rate of decline has been slowing recently. In fact, some oil companies plan on adding rigs over the summer if prices stabilize near $60.
"The current price levels may keep some players in business and even entice others to come back," JBC Energy analysts explained in a report. "The first plays to rise from the dead and post further growth could be in the U.S. and. such a turn of events could keep production up."
But short-term volatility is the only thing deflating the crude oil price today. Money Morning Global Energy Strategist Dr. Kent Moors sees oil in the $70 range by year's end.
Here's the biggest reason why that's going to happen…