Intel stock nudged up today (Friday) as yet another report hinted that the iconic chipmaker was close to an acquisition of Altera Corp. (Nasdaq: ALTR) for $15 billion.
Thursday evening the New York Post reported that the Intel-Altera deal could happen "as early as next week." It was the latest rumor of a merger between the two companies, the first coming via The Wall Street Journal March 27.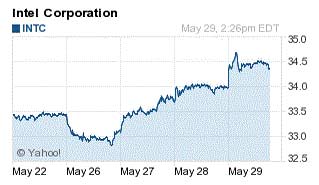 Friday's report had Intel Corp. (Nasdaq: INTC) stock up 1.46% to $34.51 by midday.
Wall Street clearly approves of the deal. INTC stock is up more than 14% since word of a possible deal first broke. That's unusual for an acquiring company, which typically sees its stock stay flat or drop a little.
But Altera would give Intel a boost in the one area with the most potential to grow Intel's business…
These Sales Are the Key for Intel Stock
An Altera acquisition would boost Intel's data center segment. Data center revenue was up 19% in Intel's most recent quarter, while revenue from its sales of PC processors was flat.
You see, Intel is in the middle of a transition from earning most of its profits from the sales of PC chips to earning most of its profits from its data center business. Just four years ago, Intel's Data Center Group (DCG) contributed 30% of the company's profits. In Q1 of 2015, that had grown to 50%.
Intel projects DCG sales will grow 15% a year for the next four years. Profits will grow even faster, as the data center business enjoys higher profit margins than Intel's other units.