Snapping up a few shares of Xilinx stock looks like a pretty good idea right now.
That's because Xilinx Inc. (Nasdaq: XLNX) has moved to the top of the list of possible acquisition targets in the semiconductor industry.
And make no mistake, the chipmakers are in the mood for deal-making.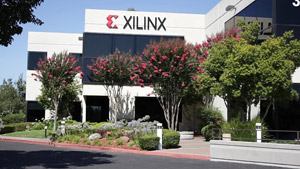 Just yesterday (Thursday) we saw the $37 billion acquisition of Broadcom Corp. (Nasdaq: BRCM) by Avago Technologies Ltd. (Nasdaq: AVGO). Back in March, NXP Semiconductors NV (Nasdaq: NXPI) agreed to pay $11.8 billion for Freescale Semiconductor Ltd. (NYSE: FSL).
And Intel Corp. (Nasdaq: INTC) has been circling Altera Corp. (Nasdaq: ALTR) for two months now.
Deals in the semiconductor industry have already surpassed the $19.5 billion total for all of last year – and that was a three-year high.
"There's absolutely more to come," Gavin Slader, a managing director in the investment-banking group at JMP Securities, told Bloomberg. "I would almost say anyone who hasn't done a deal at this point has either got to be thinking about selling themselves or being acquisitive."
Every fresh M&A deal reminds investors of the potential for profits. Broadcom stock, for example, shot up 21% Wednesday on rumors of the Avago deal.
Now Xilinx is lined up to be one of the standout takeover potentials…
More Deals a Good Omen for XLNX Stock
And even after all the merger activity that's happened, there are still a fair number of targets, including Atmel Corp. (Nasdaq: ATML), Silicon Laboratories (Nasdaq: SLAB), Microchip Technology Inc. (Nasdaq: MCHP), and Maxim Integrated Products Inc. (Nasdaq: MXIM).
But while any of those could be bought, Xilinx has the traits of a front-runner. It's affordable, but big enough to make an impact on the acquiring company. Plus, XLNX has an unusual technology that could give its new owner an edge.
That makes Xilinx stock, which is trading at about $48 right now, a compelling buy. An offer for XLNX should include a premium of between 10% and 25% – a very nice short-term gain.
The Avago offer of $54.50 for Broadcom, for instance, is 15% above the BRCM trading price of about $47 before the rumors erupted.
And Xilinx stock has a good chance of faring better, because of these characteristics that open the door to more suitors…