I have a confession to make.
Even I sometimes get overwhelmed by the jargon used by tech industry insiders.
From investor presentations to product-launch slide shows, I've come across plenty of tech neologisms that made my head spin at the time.
This barrage of here-today-gone-tomorrow buzzwords often serves as a wall between the tech world and average investors, keeping newcomers from understanding what's really going on.
Today, I'm going to define the four tech terms you need to know right now.
Once you understand them, there are literally trillions in profits up for grabs...
A Vocabulary "Teardown"
I've been in and around Silicon Valley for more than 30 years and I've seen a lot of innovation and a lot of money made.
However, a slew of tech sector innovations - including the ones I'm telling you about today - are now "interlocking" and creating moneymaking opportunities unlike anything I've ever seen.
I'm talking about everything from the connected car to wearable tech.
The trouble for new investors is that so many of these new technologies are pretty complex. And the words connected with them, even though they've been market-tested to death, often obfuscate the very things they're trying to convey.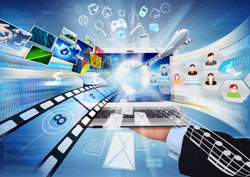 With that in mind, let's do a "teardown" on four pieces of tech jargon to illuminate their economic potential...
Moneymaking Tech Industry Term No. 1: Gigabit Internet
Gigabit Internet service is destined to affect billions of homes and businesses around the world. You may also hear this technology referred to as "fast Internet" or "ultra broadband."
The term "gigabit" refers to a speed of 1 gigabit per second. That 1 gigabit equals 1,000 megabits. And what it means is that our Internet service could soon become a lot faster.
Currently, average U.S. broadband speeds are around 25 megabits per second.
Gigabit Internet would be 40 to 100 times faster than the pokey Internet service we've got now.
Tech industry insiders tend to call it "gigabit fiber" because we need fiber-optic cables to reach such high speeds. These thin strands of glass or plastic literally use beams of light to transmit voice, photos, music, movies, and other data - and there's nothing faster than light.
Gigabit Internet, which is beginning to pop up in the Kansas City area, Austin, Texas, and elsewhere, will greatly enhance sectors that depend on fast Internet connections.
For you, right now, with the likes of Netflix and YouTube becoming such bandwidth hogs, Gigabit Internet would mean a much better video-streaming experience.
And in the near future, gigabit Internet will make ultra-high-definition television (UHDTV), or "4K," more workable. UHDTV signals have roughly four times the resolution of high-def TV sets and could easily bog down your home network.
Analysts project sales of 4K sets to increase 60-fold from the 2013 base year to 1.43 million units by the end of 2016. By 2018, the market will be worth roughly $3 billion.
And that's just for starters. Gigabit Internet will shake up the $93 billion market for Internet service providers and will play a key role in the $1.7 trillion market for e-commerce, which includes streaming music and video.
Which brings me to my next tech-industry term...
Join the conversation. Click here to jump to comments…
About the Author
Michael A. Robinson is a 36-year Silicon Valley veteran and one of the top tech and biotech financial analysts working today. That's because, as a consultant, senior adviser, and board member for Silicon Valley venture capital firms, Michael enjoys privileged access to pioneering CEOs, scientists, and high-profile players. And he brings this entire world of Silicon Valley "insiders" right to you...
He was one of five people involved in early meetings for the $160 billion "cloud" computing phenomenon.
He was there as Lee Iacocca and Roger Smith, the CEOs of Chrysler and GM, led the robotics revolution that saved the U.S. automotive industry.
As cyber-security was becoming a focus of national security, Michael was with Dave DeWalt, the CEO of McAfee, right before Intel acquired his company for $7.8 billion.
This all means the entire world is constantly seeking Michael's insight.
In addition to being a regular guest and panelist on CNBC and Fox Business, he is also a Pulitzer Prize-nominated writer and reporter. His first book Overdrawn: The Bailout of American Savings warned people about the coming financial collapse - years before the word "bailout" became a household word.
Silicon Valley defense publications vie for his analysis. He's worked for Defense Media Network and Signal Magazine, as well as The New York Times, American Enterprise, and The Wall Street Journal.
And even with decades of experience, Michael believes there has never been a moment in time quite like this.
Right now, medical breakthroughs that once took years to develop are moving at a record speed. And that means we are going to see highly lucrative biotech investment opportunities come in fast and furious.
To help you navigate the historic opportunity in biotech, Michael launched the Bio-Tech Profit Alliance.
His other publications include: Strategic Tech Investor, The Nova-X Report, Bio-Technology Profit Alliance and Nexus-9 Network.