Anyone expecting great things from the Apple stock price today following a flurry of announcements at the tech giant's Worldwide Developers Conference (WWDC) was sorely disappointed.
Apple Inc. (Nasdaq: AAPL) stock fell 0.7% yesterday (Monday). And the Apple stock price today was down as much as 1.69%.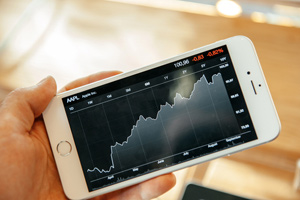 It wasn't that Wall Street was disappointed with what Apple had to say Monday so much as bored. You see, pretty much everything the company presented had already been leaked ahead of time and so had been baked into the AAPL stock price.
Such investor pessimism at WWDC news is not unusual. Over the previous 10 years, the Apple stock price declined an average of 3.7% in the week that WWDC was held.
But as happens so often on Wall Street, the dismissive reaction to this year's WWDC news is short-sighted. It fails to recognize the true value of some of this week's announcements.
What Matters to the Apple Stock Price Today
Tech pundits have criticized the announcements, saying that many of the new features Apple showed off already exist in Google Inc.'s (Nasdaq: GOOG, GOOGL) Android or Microsoft Inc.'s (Nasdaq: MSFT) Windows.
So the iPad is getting the ability to run two apps side by side, just like a Surface tablet. Maps is getting public transit information, just like Google Maps.
Siri, Apple's much-maligned voice-activated assistant, is borrowing ideas from both. The ability to suggest reminders based on your contact list or location is similar to what Microsoft's Cortana and Google Now can do. Siri can also use date and context to search your photos like Google Now.
And Apple's new music service follows by several years streaming services like Spotify and Pandora Inc. (NYSE: P).
You can't deny that Apple is copying its competitors. But here's why focusing on Apple's "lack of innovation" is missing the point…