When you've knocked around Silicon Valley for as long as I have, you're bound to hear your fair share of really bad ideas.
And I just heard a bad idea for a tech company that tops them all.
On June 16, The Wall Street Journal suggested that Apple Inc. (Nasdaq: AAPL) drop its Mac desktop computer division.
Specifically, it ran a column suggesting that Apple flush its line of Mac desktop computers.
That idea makes some of the biggest "loser" pitches I heard during my days as an advisor to venture-capital funds sound like polished gems of genius.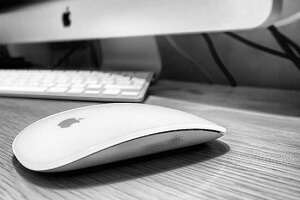 First off, slashing its Mac division would sap nearly $6.9 billion - that's 9% - from Apple's top line. Does taking a 9% pay cut sound like a good idea to you?
But that's just the "simple" reason for not following the Journal's advice.
Today, I want to show you exactly why Apple needs to protect tech investors and their hard-earned money from this horrible advice.
And I'll tell you what to do if Team Tim Cook even considers such a move...
The Tech Company's Creative Department's Secret Weapon
At first glance, the Journal's advice might seem smart.
After all, PC makers have been under pressure for years - starting even before the rise of smartphones and tablets.
In late 2004, International Business Machines Inc. (NYSE: IBM) sold off its PC business because of declining profits.
And just two years ago, we saw the worst decline in PC shipments ever - from a 6.9% drop from 88.7 million units shipped in the fourth quarter of 2012 to 82.6 million units in fourth-quarter 2013.
So, from that survivor standpoint alone, Apple's Mac has to be considered the single most successful PC ever.
First released in January 1984, the Mac was the first mainstream PC to feature a graphical user interface - those are the icons on your PC's screen you use to navigate through your computer - and a mouse.
In no time, the Mac turned the creative and publishing industries upside down. Suddenly, advertising agencies, magazines, and newspapers - and later, websites - could use a single computer for just about everything.
To this day, the Mac remains the standard of excellence in just about every creative field, from animation and publishing to website design and engineering.
So, for The Wall Street Journal to suggest Apple should "kill off the Mac" shows an utter lack of understanding of the critical role this device plays in the lives of millions of professionals.
Not to mention Apple's financials. Consider that the Silicon Valley legend makes more profit on Macs than the top five PC vendors combined.
And like I said, Apple sold 5.5 million Macs last year, bringing in $6.9 billion, or 9% of overall sales.
I'm not making this up. This next statement is a direct quotation from the article:
"This would be a crazy thing to say for any other company, but Apple doesn't need this revenue."
They're right. That is a crazy thing to say...
Join the conversation. Click here to jump to comments…
About the Author
Michael A. Robinson is a 36-year Silicon Valley veteran and one of the top tech and biotech financial analysts working today. That's because, as a consultant, senior adviser, and board member for Silicon Valley venture capital firms, Michael enjoys privileged access to pioneering CEOs, scientists, and high-profile players. And he brings this entire world of Silicon Valley "insiders" right to you...
He was one of five people involved in early meetings for the $160 billion "cloud" computing phenomenon.
He was there as Lee Iacocca and Roger Smith, the CEOs of Chrysler and GM, led the robotics revolution that saved the U.S. automotive industry.
As cyber-security was becoming a focus of national security, Michael was with Dave DeWalt, the CEO of McAfee, right before Intel acquired his company for $7.8 billion.
This all means the entire world is constantly seeking Michael's insight.
In addition to being a regular guest and panelist on CNBC and Fox Business, he is also a Pulitzer Prize-nominated writer and reporter. His first book Overdrawn: The Bailout of American Savings warned people about the coming financial collapse - years before the word "bailout" became a household word.
Silicon Valley defense publications vie for his analysis. He's worked for Defense Media Network and Signal Magazine, as well as The New York Times, American Enterprise, and The Wall Street Journal.
And even with decades of experience, Michael believes there has never been a moment in time quite like this.
Right now, medical breakthroughs that once took years to develop are moving at a record speed. And that means we are going to see highly lucrative biotech investment opportunities come in fast and furious.
To help you navigate the historic opportunity in biotech, Michael launched the Bio-Tech Profit Alliance.
His other publications include: Strategic Tech Investor, The Nova-X Report, Bio-Technology Profit Alliance and Nexus-9 Network.