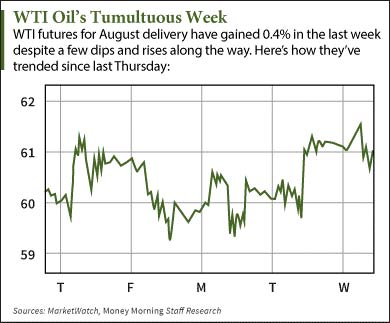 The WTI crude oil price today (Wednesday) surged above $61 in morning trading on declining inventory data.
At 10:30 a.m., WTI crude oil prices were up 0.6% and trading at $61.37 a barrel. Yesterday, the U.S. benchmark closed at $61.17 - its highest settlement in two weeks. Despite a volatile week, WTI has gained 5% over the last month.
Brent crude oil prices saw smaller gains this morning. The international benchmark traded up 0.42% to $65.41 a barrel. Brent has risen 1% over the last month.
The rise in the WTI crude oil price today came after the American Petroleum Institute (API) released its weekly supply report. On Tuesday, the institute said crude supplies fell 3.2 million barrels last week. That surpassed Platts-polled analysts' forecast of 2.3 million barrels.
The U.S. Energy Information Administration's (EIA) supply report - the bellwether supply data for the U.S. oil industry - will be released later today. It's expected to show an eighth straight weekly decline in inventories.
According to Money Morning Global Energy Strategist Dr. Kent Moors, inventories will keep shrinking. He conservatively predicts oil will be in the $73 to $78 range by year's end, but it could climb even higher than that.
Here's why supply levels are rapidly decreasing...
Why the WTI Crude Oil Price Will Hit $73 to $78 by the End of 2015
The reason is simple - the rig count is shrinking as the extraction levels of active rigs fall.
You see, the highest production levels from shale oil wells usually occur within the first 18 months of operation. After reaching peak production, each well's output starts to decline significantly.
"The most important [factor] is lower production in the face of continuing supply-side surpluses," Moors said. "This will depend on the ability of U.S. operating companies to limit new projects of a certain type."
As a result, demand will naturally increase as more rigs die out. The International Energy Agency (IEA) predicts worldwide oil consumption will reach 1.4 million barrels a day by the end of the year, up from the agency's previous 2015 estimate of 900,000 barrels a day.
In February, Moors explained how different areas of the production process will open up profitable opportunities for energy investors. Here's how you can earn huge from the rebounding oil market...
What are your thoughts on the crude oil price today? Talk to us on Twitter at @AlexMcGuire92 and @moneymorning.