A lot of Baby Boomers are now running smack dab into their retirement.
An aging population coupled with the rising cost of healthcare and prescription drugs is a potent brew for profiting in the healthcare sector.
And it's no wonder that this company is in the spotlight with long-term analysts.
Let's find out how to take the "Profit Express" right now...
A Healthcare Sector Giant You Need to Know
Perhaps you have never heard of Express Scripts Holding Co. (Nasdaq: ESRX), but you need to. ESRX is a pharmacy management company in the United States and Canada with over $102.4 billion in revenue. It's a huge player in the healthcare sector and is always in the spotlight with long-term analysts.
But is it ripe for a shorter-term technical trade?
I certainly think so. I love ESRX stock for two reasons.
Let's take them one at a time and use our charts to guide the way.
In the chart below, ESRX continues to show the higher-low, higher-high approach to its rising price. The first quarter of 2015 shows stock price lows at $82, and highs at $89.50. Meanwhile, second-quarter lows came in at $83.75, and highs pushed $91.
Recently, ESRX pulled back to $85 before once again heading north to a recent stock price of $88. Just some quick calculations show the stock's lows getting higher by $1.75, while the most recent highs were $1.50. The next swing high should take the stock to $92.50, based on this analysis.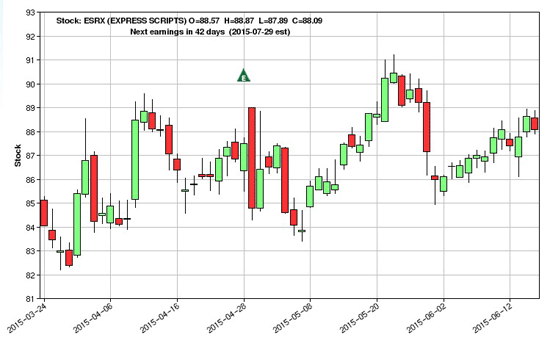 The second thing I love about this stock is that moving averages are moving in the right direction, as you can see in my next chart below.
Now it's one thing to have a moving average below the price of a rising stock like ESRX, but it's something else to have two moving averages help dictate buy and sell points on a stock.
Moving average crossovers do precisely that. They give traders an opportunity to buy rising stocks on pullbacks.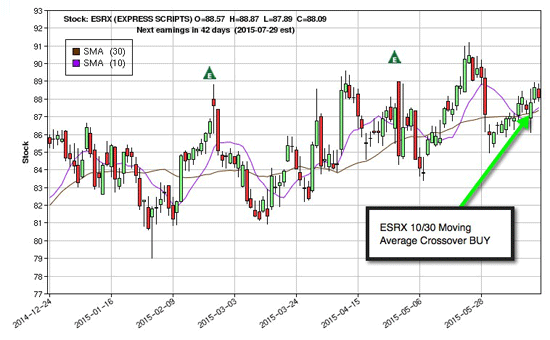 I love the 10- and 30-day moving averages on stocks that have the higher lows and higher highs on their charts. What I concentrate on is when these moving averages cross over each other.
When the 10-day moving average crosses above the 30-day moving average, this is a very bullish signal, especially to a stock like ESRX, which is trending higher. On the contrary, when the 10-day moving average crosses below the 30-day moving average, this would constitute a sell.
As you can see from the chart above, ESRX is now telling us that it's time to go higher...
Join the conversation. Click here to jump to comments…
About the Author
Tom Gentile, options trading specialist for Money Map Press, is widely known as America's No. 1 Pattern Trader thanks to his nearly 30 years of experience spotting lucrative patterns in options trading. Tom has taught over 300,000 traders his option trading secrets in a variety of settings, including seminars and workshops. He's also a bestselling author of eight books and training courses.