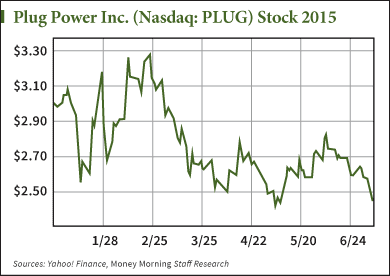 Plug Power Inc. (Nasdaq: PLUG) stock hasn't broken out in a big way since last year, but the PLUG bulls are hanging on.
You see, PLUG stock was so low at one point it was in danger of being delisted from the Nasdaq. PLUG stock closed at $0.12 on Feb. 26, 2013.
But it came into 2014 hot as Wal-Mart Stores Inc. (NYSE: WMT) - already a Plug Power customer - tripled its orders of Plug's flagship hydrogen fuel cell product. Wal-Mart wanted to deploy the technology for its forklift fleet in six North American distribution centers.
That and CEO Andy Marsh's promises of $70 million in revenue for the year helped propel the stock 565.2% by March that year. It closed at $10.31 on March 10, 2014.
But alas, the party couldn't go on forever. Noted short-selling firm Citron Research wrote a rather nasty report that leveled harsh criticism at the hydrogen fuel cell provider, primarily because of management's continued failures on matching revenue guidance and meeting promises on orders.
PLUG stock is now trading below $2.50 - a 75% drop from its peak in that 2014 rally. It's been on a long descent and hasn't been able to break back above $3 since February.
Now very few analysts are buzzing about PLUG stock and its potential, which is deterring investors from considering PLUG as a good opportunity.
But here's what they're all missing about PLUG...
What You Need to Know About PLUG Stock
The current indifference Wall Street has toward PLUG stock undermines the impressive potential Marsh has opened up to the company since he took charge in 2008.
"This is a guy that came to a company that was an experimental company focused on research," Michael Bigger, founder of Bigger Capital, told Money Morning. "Then they found a product that he could sell on a big scale and he did one of the first deals with Wal-Mart, which was super impressive."
For most of its existence, Plug Power was an experimental R&D company looking to create hydrogen-powered solutions.
Its first main commercial product was GenCore, an on-site electricity generation system using hydrogen fuel cells to provide back-up power for telecommunications, broadband, and utility applications.
But Marsh shifted gears. He saw a big opportunity in creating and delivering hydrogen fuel cell solutions for the material handling industry. At the center of this shift was GenDrive, a hydrogen fuel cell used in material handling vehicles for distribution centers across the country.
You see, most of these vehicles use lead-acid batteries. Lead-acid batteries require costly infrastructure for battery charging and changing and on average take up 7% of the distribution center's space, according to Plug Power's website.
Additionally, a lead-acid battery-powered lift truck will lose 14% of its speed over the last half of its charge.
Hydrogen fuel cells, on the other hand, use less electricity to bring down energy costs, operate at full power throughout the charge to limit downtime and increase productivity, and free up commercial space that would otherwise have been used for accommodating lead-acid battery infrastructure.
All of this, Plug Power argues, can provide immediate savings of up to $1 million.
But even as Plug Power was developing this revolutionary product - the first commercially viable solution to come out of this nascent industry - PLUG stock continued to languish until Marsh transformed the business model with GenKey in early 2014.
GenKey is a comprehensive service that offers the GenDrive fuel cells, GenFuel - the hydrogen refueling stations, and GenCare - the customer care and maintenance service, all at once.
This has helped Plug Power amass an impressive portfolio of business clientele. Its largest customer is Wal-Mart, but other notable customers include SYSCO Corp. (NYSE: SYY), Procter & Gamble Co. (NYSE: PG), Kroger Co. (NYSE: KR), and The Coca-Cola Co. (NYSE: KO).
Wal-Mart is employing the GenDrive solution in eight U.S. sites with three more in Canada - a huge endorsement of hydrogen.
"Wal-Mart was validating the fuel cell productivity solution... Wal-Mart is a standard in terms of logistics excellence," Bigger said, adding that with Wal-Mart's endorsement, more corporate clients are soon to follow.
So why, if such a fundamental shift looks to be taking place in distribution centers across the country and Plug Power is positioned to reap most of the benefits, is PLUG stock unable to break out in a meaningful way?
Why Is PLUG Stock Going Down?
As Bigger said, "Obviously, it doesn't happen overnight."
One problem is that for as long as Plug Power has been around, it has generated losses. But the losses that Plug Power posted pre-Marsh - but more notably even pre-GenKey - are materially different than the losses being posted now.
Plug Power, for most of its history, was a cash-burning R&D company. Now it has a somewhat successful commercial product. It's increasing its gross margins and notching impressive customers. The profits aren't coming yet, but important initiatives like GenKey require that Plug Power reinvest in the business, rather than merely try to please shareholders.
"They're reinvesting and that's the right thing to do," Bigger said. "So, if Andy [Marsh] had not done the service thing and the whole GenKey thing, that would be a disaster. But that was right and if the profits are postponed, I don't care."
"For me, I'm very skeptical about this idea of putting a target on profit when you have such an opportunity ahead of yourself. It's kind of crazy to me," Bigger added.
And Plug Power does have a huge opening ahead if it reinvests appropriately.
[epom key="ddec3ef33420ef7c9964a4695c349764" redirect="" sourceid="" imported="false"]
"There are six million forklifts in operation globally... Plug has installed between 7,000 and 10,000 fuel cells," Bigger said. "It's a massive, massive market. It's a disruptive solution."
PLUG is also constrained because it's not really able to disclose the breadth of its corporate client base. It has more customers than it's letting on - a fact that could attract more bulls if it was more well-known.
"I wouldn't be surprised if there's a bunch of customers that we don't know about," Bigger said. "That's just the nature of the beast. Many public companies don't announce their customers and that's understandable... it might be they want to control the PR, it might be they don't want to disclose strategic initiatives or something like that."
One "secret" Plug Power customer is Home Depot Inc. (NYSE: HD). Marsh revealed this in the 2015 first-quarter earnings call with a slip of the tongue. There are also rumors that Plug has netted Nike Inc. (NYSE: NKE).
And that's what makes PLUG stock so frustrating. It has made an impressive turnaround in the last year, and investors are too distracted by last year's PLUG stock price crash to recognize that the company has stumbled upon a revolutionary solution and should not be looked on as just a flash-in-the-pan pump-and-dump stock.
"This remains an interesting market niche, but there is no movement virtually across the board," Money Morning Global Energy Strategist Dr. Kent Moors said.
Traders will likely continue to make PLUG stock their playground, employing short-term trading strategies, all while ignoring the real potential here. PLUG stock could be gearing up for even more losses before it can take off.
"It's not a thing for short-term trading," Bigger said. "It's going to be a frustrating experience, especially if you want profit on a quarterly basis."
The Bottom Line: PLUG stock has potential to break out at some point, but it's being held back by the day-to-day noise of traders with little interest in revolutionary hydrogen solutions. It's more risky than most stocks, so it's not for everyone. But if it fits your goals, PLUG stock is a buy if you want to pick up some shares, stash them away, apply trailing stops, and forget about them for now. However, you're likely to see losses before you see gains.
"There's the stock and then there's the business," Bigger said. "The stock does what it does... Down the road Plug could be a multi-billion dollar company - it's very possible."
Jim Bach is an Associate Editor at Money Morning. You can follow him on Twitter @JimBach22.
Oil and Energy Strategist Dr. Kent Moors Is Revising His Oil Price Outlook...Here's what you need to know about what's really going on in the energy markets...