Trillium Therapeutics Inc. (Nasdaq: TRIL) stock has climbed 143% in 2015, and it's still one of the top biotech stocks to buy now.
You see, Trillium is at the forefront of a revolutionary treatment that could hold the key to curing various types of cancer.
Here's how the treatment works, and how it could make TRIL stock the next great biotech blockbuster…
Behind Trillium's Revolutionary Cancer Treatment
When your cells get sick or damaged, the body sends scavenger cells called macrophages to devour them. This process is called phagocytosis.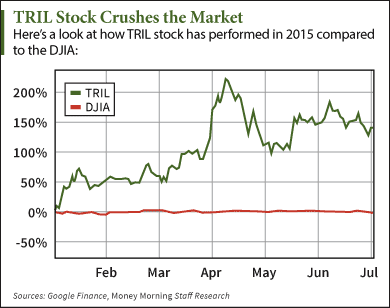 "Nearby healthy cells avoid this fate because they carry significant amounts of a signal protein, CD47, on their surfaces, which acts like a flashing sign that says, 'Do not eat me!'" Money Morning Biotech Investing Specialist Ernie Tremblay explained. "Unhealthy cells lose much of their ability to express CD47 and also give off other signals that attract hungry macrophages. They quickly become lunch."
Here's the problem: Cancer cells produce CD47 and camouflage themselves from the body's immune system. That's why scientists are developing CD47 inhibitors to disarm cancer cells.
So far, CD47 inhibitor treatments have focused on blood cancers. But now scientists are developing them for other types of cancers.
"This approach to fighting blood cancers is extremely promising, but it's not the end of the story," Tremblay said. "As it turns out, CD47 blockade may be a treatment that works against all cancers – there are more than 200 variations – because all malignant tumors, no matter the type, express CD47 for survival."
These treatments could be the "magic bullet" to treating all types of cancers. And TRIL stock is at the forefront of this profit opportunity…