Every so often, in sharing a story about a "Disruptor" catalyst making waves around us, I'll recommend a story-related stock.
One recent example was IAC/InterActiveCorp (Nasdaq: IACI), which I recommended in my June 12 report, "Today We're Going to 'Fix You Up' With a Winner."
It's only been two weeks, but IAC is already following my storyline.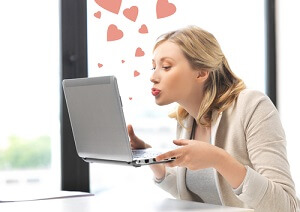 Of course I was trying to be funny with the "Fix You Up" reference in the title, as the story was about online dating in general. But I was quite serious in predicting that Barry Diller's IAC/InterActiveCorp would spin off its Match Group of properties into a separate company and issue shares to existing IAC stockholders.
Well, it didn't take long. Sure enough, last week IAC said it was going to do just that, and spin off the Match Group into a separate company. In a statement, IAC said that it expects Match Group to issue close to 20% of its shares in the IPO.
In my report, I accompanied my recommendation with a specific "Buy" strategy.
I still like the company, but today's markets are fluid – meaning the strategy I detailed needs refining.
Today, I'm going to do just that. And you don't want to ignore it…
After all, online dating is a $2 billion business…
A "Golden" Game Plan
At the time I penned my report – on account of the market wobbling a bit – I recommended buying IAC, but trying to get it lower if the market dipped and took IAC down with it. In a perfect world, the market would have dipped and IAC would have gone down to the $70 level, where I said to buy it, and then gone lower to $65, where I said you should buy more.
But it's not a perfect world – which is actually a good thing since it means the overall market didn't tank (at least for now). So we didn't get to load up on IAC at a level much lower than where it was trading when I made the recommendation.
Even so, I'm betting at least some of you folks bought some shares that day – especially since I concluded by saying: "The only thing is, if you wait to pick up shares a lot lower, you may not get a chance. The market could climb the current 'Wall of Worry' and go a lot higher before it eventually 'corrects.' Barring a Match Group spin-off, smartly buying IAC shares and adding to your position on dips could be a great way for you to fall in love with online dating. And if that happens, just remember: We were the matchmaker that 'fixed you up' with this big-profit Disruptor."
If you listened – and acted – you're at least a little in love this week.
If you waited until the end of the day (June 12) and bought IAC, you'd own the shares at roughly $75.93. It made a new high of $82.40 last week and closed at $80.48.
So here's what you should do now…
Join the conversation. Click here to jump to comments…
About the Author
Shah Gilani is the Event Trading Specialist for Money Map Press. In Zenith Trading Circle Shah reveals the worst companies in the markets - right from his coveted Bankruptcy Almanac - and how readers can trade them over and over again for huge gains.Shah is also the proud founding editor of The Money Zone, where after eight years of development and 11 years of backtesting he has found the edge over stocks, giving his members the opportunity to rake in potential double, triple, or even quadruple-digit profits weekly with just a few quick steps. He also writes our most talked-about publication, Wall Street Insights & Indictments, where he reveals how Wall Street's high-stakes game is really played.