If you're looking to invest in e-cigs right now, or trying to find pure play e-cig stocks, you may be disappointed.
That's not to say the market is barren. Recent Centers for Disease Control studies show that 1 in 10 adults have used e-cigarettes, while 8 in 10 are aware they exist. So there is a lot of room for growth.
And the global e-cigarette product market is expected to grow over $39.6 billion by 2024, according to BIS Research.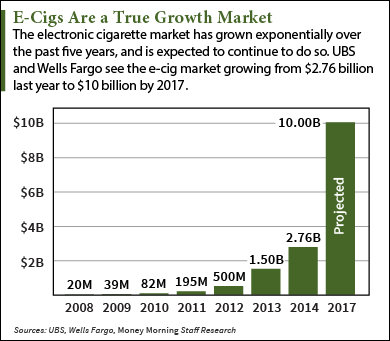 But to invest in e-cigs, there needs to be a viable public company out there. And that hasn't happened yet. Sure, cigarette companies like Philip Morris International Inc. (NYSE: PM) and Altria Group Inc. (NYSE: MO) are moving into the space.
But they are far from purely e-cig stocks. And what's more, they aren't first movers or revolutionizing the market by any stretch.
"The Philip Morrises and the Altrias of the world, they are getting involved in the vapor space," Aaron LoCascio, founder and CEO of VapeWorld told Money Morning.  "But they're doing so in what is already becoming an outdated line of products, which is the micro-cig. This is a type of vaporizer, also referred to as electronic cigarettes. They have the look, shape, and feel of a traditional cigarette, except they're electronic."
VapeWorld is a sales, marketing, and distribution company in the business of vaporizers. It is one of the largest companies in the space, with more than 100 employees and rapidly approaching seven figures in sales, LoCascio said.
It was born out of LoCascio's dream of being the "Wal-Mart of the Internet." In college, he began buying vaporizers from manufacturers and selling them online at a markup. He moved into home audio equipment and kitchen appliances. He saw a drop-off in sales during the last recession in all but one product line: vaporizers.
Vaporizers were exploding then, at a time when the technology wasn't well known, and the market has a compelling growth story ahead of it. VapeWorld has grown purely out of retained earnings and has something that Philip Morris and Altria don't have.
"You can only cram so much technology into something that small," LoCascio said of e-cigs. "A large portion of the market is going to these larger devices where you can customize the experience, you have a lot more options, and you have a lot more room to pack a lot more technology, so the devices are just delivering a better experience."
VapeWorld has an extensive network of vaporizer manufacturers it taps to sell to mom-and-pop operations and small smoke shops. In many cases, VapeWorld has "exclusive arrangements with some of the most dominant products in the marketplace," LoCascio said. And being in the business for 10 years, VapeWorld has first-mover advantage.
So, how can you buy into this promising company and start to invest in e-cigs and vaporizers today?