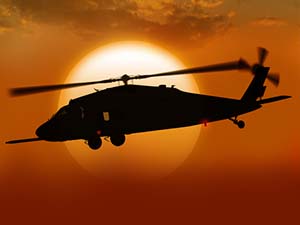 Defense is an industry with a rich history of consolidation. And we may be looking at yet another blockbuster acquisition with Lockheed Martin Corp. (NYSE: LMT) prepared to fork over $8 billion for United Technologies Corp.'s (NYSE: UTX) Sikorsky Aircraft.
But will Lockheed Martin buy Sikorsky Aircraft?
It's certainly an intriguing purchase - as is LMT stock.
The consolidation of the defense industry in the 1980s and 1990s has helped to draw the current battle lines for the sector's top players.
Raytheon Co. (NYSE: RTN) has missiles. Northrop Grumman Corp. (NYSE: NOC) has radar. General Dynamics Corp. (NYSE: GD) has gun boats.
And ever since Lockheed Martin got the contract to lead the Joint Strike Fighter (JFS) program - an ambitious project to create the next generation of fighter jets, the F-35, for the Air Force, Navy, and Marine Corps - it looks like Lockheed Martin has a firm grip on the fighter jet market.
It's certainly been the primary Lockheed Martin stock price driver for the year - and will continue to be for years to come.
With this 56-year, $1.4 trillion program, it's estimated that when the F-35 goes operational in 2018, it will capture 50% of the jet fighter market globally, according to Teal Group analyst Richard Aboulafia, as reported by National Defense in September 2014.
So what will Sikorsky bring to Lockheed? And ultimately, will Lockheed really buy Sikorsky Aircraft?
Here's what you need to know about this potential marriage.
Why Will Lockheed Martin Buy Sikorsky Aircraft?
Sikorsky is perhaps most well-known for its Black Hawk line of helicopters. Additionally, from former President Dwight Eisenhower to former President George W. Bush, Sikorsky had also built every presidential helicopter.
It was around 2004 that Sikorsky and Lockheed became bitter rivals. Lockheed teamed up with the Anglo-Italian AgustaWestland to battle for a presidential helicopter contract.
The Lockheed-Agusta partnership ultimately beat out Sikorsky with its VH-71, a project that was scuttled by delays and ultimately canceled in 2009 by the Obama administration at the behest of cost-cutting Defense Secretary Robert Gates.
That's where this story gets a little more fascinating...