Microsoft stock is suffering from a bad reaction to a Q4 earnings report that, at first blush, looks really awful.
MSFT stock plunged more than 4.5% in after-hours trading yesterday (Tuesday). After recovering somewhat in early morning trading, shares of Microsoft Corp. (Nasdaq: MSFT) slumped back below 4% by the afternoon. Microsoft stock closed Wednesday at $45.51.
By the numbers, the Microsoft Q4 earnings produced the company's worst loss in its history. A $7.5 billion write-down of the acquisition of Nokia Corp.'s (NYSE ADR: NOK) devices business resulted in a $3.2 billion loss, or $0.40 a share.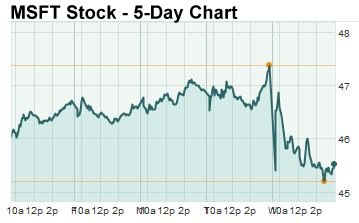 And while that is a one-time charge, bears also focused on weakness in Microsoft's traditional moneymakers, Windows and Office.
Sales of Windows to consumers were down 13%, while sales to PC makers plunged 22%. Neither were helped by the 9.5% decline in global PC sales in the June quarter.
In addition, phone hardware revenue fell 38% – another hangover from the ill-advised Nokia deal.
But the reality isn't nearly so bad. Backing out the Nokia charge, Microsoft's EPS was $0.62 – higher than analyst expectations for $0.58.
And revenue also came in slightly higher than the forecast: $22.2 billion versus $22.04 billion.
It's not all that terrible for a company going through the biggest transition in its history. While the profits from the legacy Windows and Office businesses continue to shrink quarter after quarter, Microsoft has managed to keep the numbers from falling off a cliff.
The MSFT Q4 earnings tell us the focus on cloud and mobile is already starting to pay off. And that's what investors need to watch, not the fate of the company's aging cash cows.
Office actually represents both Microsoft's past and its future. With the subscriber-based Office 365, Microsoft is turning Office into a thriving cloud-based business.
Instead of selling customers the product once every few years, Microsoft is now selling subscriptions – and earning a steady revenue stream.
That means every time MSFT sells an Office 365 subscription, it ensures future revenue…