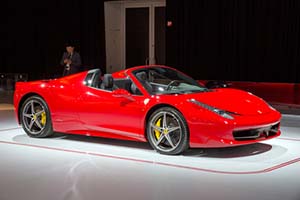 There's a Ferrari IPO in the making.
Fiat Chrysler Automobiles NV (NYSE: FCAU) filed with the U.S. Securities and Exchange Commission today (Thursday) to spin off Ferrari in its own U.S. initial public offering.
The company officially filed for a $100 million deal, but that number is just a placeholder. According to Renaissance Capital, a manager of IPO-focused ETFs, the Ferrari IPO could raise more than $1 billion. No IPO price range has been set yet.
The SEC filing states that the company hopes to hit the market by early 2016. The Italian sports car maker is expected to command an $11 billion valuation.
The Ferrari IPO will allow everyday investors to own shares of one of the most valuable brands in the world. The company maintains its prestige by capping production at around 7,000 vehicles per year to ensure demand always outpaces supply. Some customers wait years for their new vehicle to arrive.
"There are clear expectations from ourselves as Ferrari brand is unique," said Sergio Marchionne, CEO of Fiat Chrysler, at a presentation in Turin, Italy, on July 3. "There is also a scarcity value as we are just selling a 10% stake."
Fiat Chrysler plans to sell 10% of Ferrari and distribute 80% to FCAU shareholders. Piero Ferrari, son of founder Enzo Ferrari, plans to keep the 10% he already owns.
Now that we know the Ferrari IPO's initial details, investors are wondering whether they should invest in the Ferrari IPO…
Should You Invest in the Ferrari IPO?
With its strong brand recognition and valuable products, Ferrari stock could be a healthy investment down the road.
But we strongly recommend waiting until after the Ferrari IPO to consider investing in the company. That's because buying new stocks right after they debut typically isn't a good idea for retail investors.
You see, popular IPOs are usually reserved for institutional investors willing to buy huge quantities of the stock. These Wall Street "VIPs" usually sell the stock off by the time you and I can buy into it.
Not to mention most of these deals are accompanied by hype that overshadows the facts.
"Too many investors hear of a 'hot IPO' and try to get in on the action without doing any homework at all," Money Morning Defense & Tech Specialist Michael A. Robinson explained. "That's a recipe for a hefty loss."
The Bottom Line: The new Ferrari IPO is generating tons of early buzz after the filing this morning. As more details of the deal keep coming out, it's important to focus on the facts rather than the hype. It's best to wait for the IPO buzz to settle down before investing in any new stock.
Don't miss any Ferrari IPO updates – follow me on Twitter at @AlexMcGuire92.
How to Safely Profit from Any IPO: Investing in newly issued stocks can seem like an exciting way to earn huge profits. But with institutional investors and other Wall Street "VIPs" cheating the market for quick gains, the IPO process is a rigged game nowadays. That's why we've outlined the three best IPO investing rules to follow for any new stock. Check them out here…