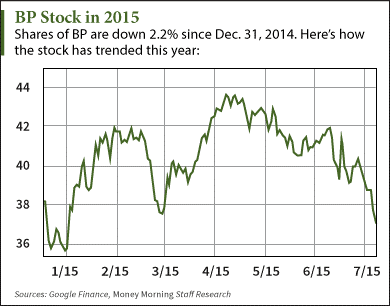 The BP Q2 earnings report will be released before markets open tomorrow (Tuesday) morning. BP Plc. (NYSE ADR: BP) will be the first of the Big Oil companies to release second-quarter numbers.
The BP Q2 earnings report is expected to log another quarter of losses as low oil prices continue to eat into the company's upstream profits.
Upstream refers to a company's exploration and production of oil and gas. Downstream refers to the refining process of oil and natural gas.
The oil titan posted $2.1 billion in profit during the first quarter, down 40% from Q1 2014. Revenue also fell 41% from $93 billion to $54.9 billion over the same period. WTI oil prices fell 8.4% in the first quarter and ranged from a low of $50.57 to a high of $59.83.
BP's Q2 earnings will certainly see a massive drop from the profitable year-ago period. In Q2 2014, the company reported $3.6 billion in profit, up 34% from the $2.7 billion reported in Q2 2013 and 13% higher than the $3.2 billion result for Q1 2014.
Those strong 2014 numbers came when WTI was trading in the $90 range. Today, WTI oil was trading below $48 per barrel.
But there will be one bright spot in the BP Q2 earnings report despite this year's oil price crash…
The One Profitable Area of the BP Q2 Earnings Report
Oil firms' downstream operations, including refining and chemical production, have improved due to low oil prices this year.
BP's downstream sector posted $2.1 billion in first-quarter profit. That's more than double the company's downstream profit from the first quarter of 2014.
The sector's numbers were huge across the board. Total SA's (NYSE ADR: TOT) overall profit fell 22% in Q1 2015 – but earnings from its downstream division increased by 12% from the year-ago quarter. Royal Dutch Shell Plc.'s (NYSE ADR: RDS.A) refining business soared 68% from $1.6 billion to $2.6 billion over the same period.
"For years refining has been the ugly duckling in big oil companies' portfolios," reported The Wall Street Journal, "but the sharp drop in crude prices has boosted the sector's profitability."
When oil prices were in the $90 range last year, refining units dragged down companies' earnings. That's because high crude prices squeezed margins on refined products like gasoline whose prices were lowered by excess supply.
Now, the downstream sector is booming as refineries enjoy strong demand and lower oil prices.
"We are resetting and rebalancing BP to meet the challenges of a possible period of sustained lower prices," BP Chief Executive Robert Dudley said in a statement. "Our results today reflect both this weaker environment and the actions we are taking in response."
In 2015, BP stock has dipped 5.5%.
The Bottom Line: Hopes are not high for the BP Q2 earnings report tomorrow. The energy giant is expected to report another quarter of losses as oil prices fail to maintain any upward momentum. But not all of the numbers will be bad. Downstream operations will remain strong as Big Oil companies keep taking steps to improve financial performance amidst volatile market conditions.
Alex McGuire is an associate editor for Money Morning who writes about oil and natural gas. You can follow him on Twitter at @AlexMcGuire92.
Like us on Facebook: Money Morning
More on Energy Stocks: Master limited partnerships (MLPs) have seen immense growth over the last decade. But it's important to understand how they work. Here's how you can profit from the MLP sector, which has generated 249% in total returns since 2005…