Teva to Buy Allergan Generics: Teva Pharmaceutical Industries Ltd. (NYSE ADR: TEVA) announced today (Monday) it will acquire Allergan Plc.'s (NYSE: AGN) generic drug unit in a deal valued at $40.5 billion.
One of the world's largest generic drug manufacturers, Teva said the stock-and-cash transaction will boost its pipeline, supply chain, and global revenue sources.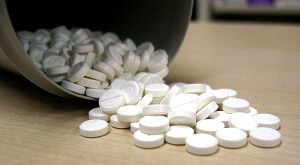 Allergan, best known for the wrinkle-eraser Botox, will receive $33.75 billion in cash and shares of Teva valued Monday at $6.76 billion. That gives the Dublin, Ireland-based pharmaceutical giant a 10% stake in the Jerusalem-based Teva.
Allergan Generics is expected to add about $2.7 billion to Teva's earnings as early as next year. Upon completion, Teva is expected to generate "pro forma sales of approximately $26 billion" globally and cash flow of $6.5 billion next year.
In addition to the "double-digit" increase in non-GAAP earnings per share in 2016, Teva also expects savings of about $1.4 billion annually by 2019 by reducing redundant operations.
The purchase of Allergan Generics strengthens Teva's position as the world's biggest seller of off-brand medicines. Founded in 1901, Teva booked revenue of $20.3 billion in 2014.
For Allergan, the transaction allows it to double down on its higher-margin, higher-branded drugs business.
"If you look at what we've been doing, it's always been about moving up the value chain, moving up the margin, innovation chain of pharmaceuticals," Allergan CEO Brent Saunders told CNBC. "This really just moved that up further."
The deal is expected to close next year.
Shareholders of both companies applauded the deal. Teva stock jumped 12.15% to a 52-week high of $69.38 in morning trading. Allergan shares surged more than $25 to $334.38, also a 52-week high.
Teva said Monday it will continue to evaluate opportunities for other deals, but added it has ended its pursuit of buying Mylan NV (Nasdaq: MYL).
Profit from Pharma's Booming M&A Market Now: Every time we see another huge merger in the pharmaceutical sector, one of our favorite investments of 2015 gets another huge "Buy" signal. This investment is already up 20.4% in 2015 and shows no signs of slowing down...
Stay informed on what's going on in the markets by following us on Twitter @moneymorning.
Related Articles: