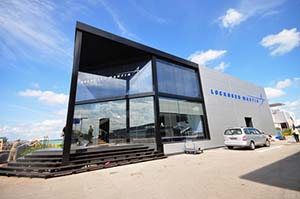 What if the F-35 is cancelled?
That's a question that has no doubt been on the mind of every holder or prospective buyer of Lockheed Martin Corp. (NYSE: LMT) stock.
The F-35 is the largest military contract in history. Lockheed serves as the principal contractor - with some help from Northrop Grumman Corp. (NYSE: NOC) and BAE Systems Plc. (OTCMKTS ADR: BAESY) on fuselage parts - on the ambitious Joint Strike Fighter program that is expected to cost $1.4 trillion over the 56-year life cycle of the project.
Of that $1.4 trillion, $1 trillion will go toward maintaining the aircraft and another $400 billion will go toward the actual purchases of over 3,000 planes - 2,400 in the United States and 600 spread across foreign buyers in the UK, Australia, Canada, Denmark, Italy, the Netherlands, Norway, and Turkey.
There are also buyers in Israel, Japan, and South Korea, with some rumblings that Singapore will join the buying frenzy as well.
What makes this project so ambitious is that it is the next generation of manned fighter craft and is by many expectations going to be the last manned jet. Unlike past fighter craft like the F-15 used by the Air Force or the F-18 used by the Navy and Marine Corps - both Boeing Co. (NYSE: BA) aircrafts - the F-35 serves many masters.
It's going to be purchased by the U.S. Air Force, the U.S. Navy, the U.S. Marine Corps, as well as the UK Royal Air Force and the Royal Navy.
All in all, it's a giant military contract. The stakes are high for Lockheed Martin - and LMT stock - to deliver on this program. Investors are nervous.
And no one can blame them.
The F-22 ended up being scrapped after ten years in 2009, when the costs and delays became too fiscally untenable for Congress to continue funding.
In fact, Lockheed Martin's history has been colored by failed projects...
Lockheed Martin (NYSE: LMT) Stock Facing History of Unsuccessful Projects
Lockheed Martin wasn't always the poster child for the military industrial complex. Nor was it always the largest, undisputed leader in getting government business.
In 1932, Lockheed Aircraft Manufacturing Co. went bankrupt along with its parent company, the Detroit Aircraft Corp.
Its assets were later salvaged by investor Robert Gross, setting the path for Lockheed to shift from a lowly aircraft manufacturing company dreamed up by the Loughead brothers in California, to a blockbuster government military vendor.
This was the first step in building what became the modern Lockheed Martin.