The Palantir IPO could happen in 2016. As anticipation builds, one of the questions we keep hearing from investors is, "What is Palantir?"
News last week that Palantir had raised $450 million in private funding only stoked investors' excitement. That's because the company is now valued at $20 billion after raising a total of $1.5 billion.
So exactly what is Palantir? Here's your full answer...
What Is Palantir and What Does the Company Do?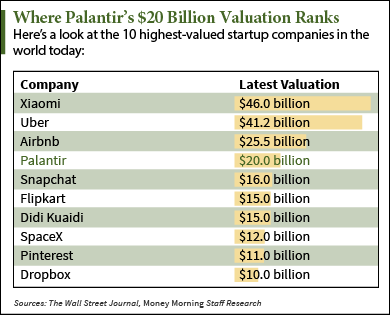 Palantir Technologies Inc. is a software company that was founded in Palo Alto, Calif., in 2004. The company analyzes massive amounts of data and sorts through it for its clients, who are typically looking for problem areas in their business.
The company was initially focused on preventing cyber-attacks, but it also helps clients avoid fraud and other crimes. Users enter questions in natural language - like, "How do you prevent insurance fraud?" - and Palantir's software sifts through all applicable data.
The company's clients are typically government agencies, financial institutions, and legal research firms. Since 2009, the company has received more than $215 million in contracts from the U.S. Department of Defense, the CIA, the FBI, Homeland Security, and the NSA.
Palantir was founded by Peter Thiel, Alex Karp, Joe Lonsdale, Stephen Cohen, and Nathan Gettings. Karp is now the firm's CEO, while Thiel remains the largest shareholder.
In 2013, Karp announced that he was not pursuing a Palantir IPO and would instead continue to raise money privately. This is a common refrain we've heard from tech startups, who typically resist putting a timetable on their IPO plans.
According to The Wall Street Journal, Palantir has received funding from nine different investors through eight rounds of funding.
While the Palantir IPO date may not be announced until 2016, investors are still wondering whether they should invest in Palantir stock when it hits the market. Here's what you need to know...