Ah, the promise of Internet TV – a world where consumer choice rules and hated cable companies are history.
But that's not how it's working out. In fact, if America's top two telecom companies – Verizon Communications Inc. (NYSE: VZ) and AT&T Inc. (NYSE: T) – have their way, Internet TV will become nothing more than a fresh profit generator that will cost consumers a fortune.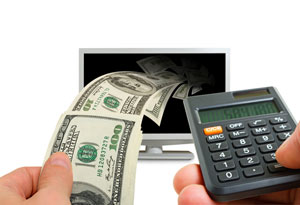 Both companies have made it their long-term strategy to move away from wired connections to wireless connections. That's because the telecoms can charge much more for data delivered over a wireless network than a wired one.
Ideally, AT&T and Verizon would love to see everyone using their cellular networks to access Internet TV. The goal is to be able to charge customers for the wireless data "pipe," just as they do now with smartphones.
To see exactly why AT&T and Verizon are licking their chops at a future where wireless Internet TV is commonplace, take a look at some figures calculated by Bruce Kushnick, executive director of the telecom watchdog group New Networks Institute.
Internet TV: You'll Be Charged by the Hour
By plugging the typical American's TV viewing into the smartphone data plans offered by both AT&T and Verizon (which, curiously, are identical), Kushnick came up with some alarming results.
For example, a typical Netflix Inc. (Nasdaq: NFLX) user watches 46.5 hours of video per month. Standard definition video consumes 1 gigabyte of data per hour. The telecom data plans both charge $375 per month for 50 GB of data, so that's $375 – much higher than a typical cable bill.
But most people who have Netflix will want to watch their programs in high definition, which triples the data usage to 139.5 GB for the same amount of hours viewed. Now you're paying $1,050 for one month of TV viewing.
It gets worse. According to Nielson, Americans watch an average of 142 hours of television every month. For that amount of wireless Internet TV viewing, Kushnick calculated a monthly bill of $1,125 for standard definition and a whopping $3,225 for high def.
"While Verizon and AT&T are claiming wireless broadband is the future and is a new technology, truth be told if this is the future, we're hosed," Kushnik wrote in a July 19 blog post on the Huffington Post website.
Obviously few if any customers would pay more than $3,000 a month (or even $1,000 a month) to just watch TV. But AT&T and Verizon would love the ability to put millions of Americans on a wireless data meter so they can squeeze a lot more profit out of them than they do now with smartphones.
Here's why they're so keen on this, and what they've done so far to make it happen…