Wall Street celebrated the official launch of Windows 10 today (Wednesday) by adding 2.25% to Microsoft stock.
MSFT stock closed Wednesday at $46.37.
Think of that as a first installment on the benefit that Windows 10 will deliver to Microsoft Corp. (Nasdaq: MSFT) stock over the next few years.
To some investors, it might seem odd to view Windows 10 as a significant catalyst to MSFT stock.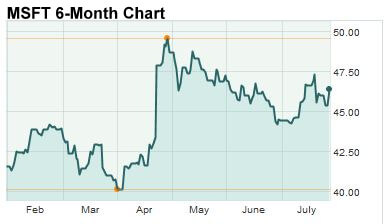 After all, isn't the company giving it away for free?
Yes. And that's the genius of it.
To its credit, Microsoft realized the old Windows business model had run its course. Releasing a new version of Windows every few years doesn't make nearly as much money when the PC market is shrinking as it did when it was exploding in the 1990s.
A change in strategy was called for. So Microsoft started giving Windows away on mobile devices, and now it's a free upgrade to those with PCs running Windows 7 or Windows 8.
The new way to monetize Windows, hinted at last year, has gradually become clearer.
Last December we got the first real hints of what Microsoft had mind.
At the Credit Suisse Technology Conference, Microsoft Chief Operating Officer Kevin Turner said that with Windows 10, there'd be "additional opportunities for us to bring additional services to the product and do it in a creative way."
Microsoft already has an array of free and paid services, most notably Office 365 subscriptions, its cloud-based storage offering OneDrive, and Skype.
That makes Windows 10 something of a Trojan horse. The idea is to get customers into the ecosystem at little or no cost so you can sell them other products and services.
That term "ecosystem" sounds familiar, doesn't it? It should, because Apple Inc. (Nasdaq: AAPL) has leveraged its ecosystem to grow into the biggest company on the planet.
And that's really the heart of Microsoft's Windows 10 monetization strategy…