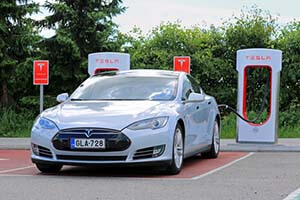 The TSLA earnings report will be released after the bell on Wednesday. Consensus estimates call for an earnings per share (EPS) loss of $0.60 on revenue of $1.17 billion.
That EPS loss would be a big drop from last year's earnings of $0.11. However, that revenue estimate is 36% higher than last year's Q2 total.
Tesla Motors Inc. (Nasdaq: TSLA) has already announced it delivered 11,507 vehicles in Q2. That's up 52% from last year and is a record high for the company. Expect to hear that number early in today's conference call.
Shareholders will also be looking for an update on the Tesla Model X. The Model X will be the first SUV from Tesla. The launch of the vehicle has already been delayed previously, so an update on the official release is expected. Company officials have already said the vehicle will have a 90-kilowatt-hour battery and falcon-wing door.
As we prepare for a large Tesla earnings loss, readers are asking us if this is a good time to buy into Tesla stock.
TSLA stock has climbed 19.5% in 2015, but it has fallen 5% in the last month. Tesla shares opened today at $263.58.
As we've stressed at Money Morning before, TSLA stock is not a perfect fit for every investor - and is not a buy for risk-averse investors. The stock is volatile and can see wide price swings on breaking news. Investors should expect a similar swing in the upcoming days as the TSLA earnings report is released.
But for investors who can buy and hold the stock for several years, the long-term potential is undeniable.
"I believe Tesla is one of the best long-term investments an investor can make at the moment," Money Morning Chief Investment Strategist Keith Fitz-Gerald said. "If there is ever a case to buy a few shares and tuck them away, this is it."
Here are two reasons why we're so bullish on Tesla stock ...