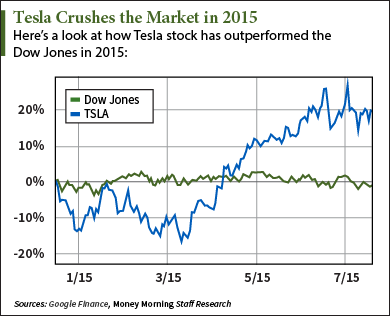 The Tesla stock price today is down 9% in after-hours trading even after the company reported a Q3 earnings beat.
Tesla Motors Inc. (Nasdaq: TSLA) reported a Q3 earnings per share (EPS) loss of $0.48, which comfortably beat the consensus projection of a $0.60 loss. Despite the beat, investors were spooked by the quarterly loss.
Revenue for the quarter was $1.2 billion. That beat estimates of $1.17 billion and was a 40% increase from last year.
Tesla also reported its highest production and delivery totals in the company's history. In Q2, 11,532 vehicles were delivered while 12,807 were produced. Looking ahead, the company expects to produce and deliver over 12,000 vehicles in Q3 despite the fact that its main facility will be closed for one week.
The company also said that deliveries for the Model X SUV will begin in September. This is a huge step for the company, which is solely producing Model S sedans right now. Company officials have already said the vehicle will have a 90-kilowatt-hour battery and falcon-wing door.
CEO Elon Musk expects production and demand between 1,600 and 1,800 vehicles per week for both the Model S and Model X in 2016.
Despite many of these optimistic earnings numbers and sales figures, the Tesla stock price today is falling.
Here's how we recommend playing TSLA stock now after earnings...
How to Play the Tesla Stock Price Today