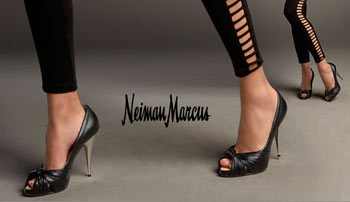 There's a second Neiman Marcus IPO attempt in the making.
The luxury-fashion retailer filed with the U.S. Securities and Exchange Commission late yesterday (Tuesday) afternoon for a $100 million deal. However, that number is just a placeholder. According to Renaissance Capital, a manager of IPO-focused ETFs, the Neiman Marcus IPO could raise roughly $800 million. It plans to list under the symbol NMG.
The filing comes less than two years after Neiman Marcus withdrew its initial offering. The company canceled plans to go public after being bought for $6 billion by equity firm Ares Management and a Canadian pension fund.
The company has been considered a leader in luxury department store retailing for over 100 years. It's known for selling lavish European fashion products like $2,000 Balenciaga handbags and $1,300 Etro dresses.
"Our customers are educated, affluent, and digitally connected," the Neiman Marcus IPO filing stated. "Approximately 38% of our customers have a median household income of over $200,000."
Neiman Marcus' upper-class clientele has consistently provided strong cash flow. The chain generated $4.8 billion in revenue last year, with about 24% of it coming from online sales. For the company's most recent quarter ended May 2, sales rose 5.2% from $1.16 billion to $1.22 billion.
The Neiman Marcus IPO will also take place at a time when the luxury-fashion market is burgeoning. That market is projected to grow from $308 billion this year to $354 billion by 2019, with the most growth occurring in the Asia Pacific, Middle East, and Africa.
Now that we know the Neiman Marcus IPO's initial details, investors are wondering if they should buy into the Neiman Marcus IPO...
Should You Invest in the Neiman Marcus IPO?
With its trendy fashion products and wealthy appeal, Neiman Marcus stock could become a strong addition to your portfolio down the road.
But we recommend waiting until after the Neiman Marcus IPO to consider buying shares of the company. That's because retail investors like you and me can be cheated out of profits during the IPO process.
You see, IPOs only benefit institutional investors willing to buy large quantities of a stock before its debut. These Wall Street "VIPs" provide the companies triple-digit gains on their first day of trading, which leads investors to believe they can capture most of these profits if they jump in right away.
Frequently, new investors will rush into a new stock following an IPO, which drives the share price higher. But if you buy in at that point, you're buying in at an inflated price. You're also missing out on the gains the wealthy Wall Street investors already snagged.
When the price settles back down after the initial frenzy, many of the retail investors who got in late are looking at a loss. This disadvantage can cause massive losses for traders like us who aren't hedge fund managers or big-time investment bankers.
But according to Money Morning Chief Investment Strategist Keith Fitz-Gerald, there are still a few ways to profit from a hot new stock like Neiman Marcus.
Here are the three best ways to play the exciting IPO market...
Follow us on Twitter at @AlexMcGuire92 and @moneymorning.