Another possible deal between two of the world's top pharmaceutical companies was announced this week when Shire Plc. (Nasdaq: SHPG) made an unsolicited offer of $30.6 billion for Baxalta Inc. (NYSE: BXLT).
Shire will offer Baxalta shareholders 0.1687 shares of SHPG for every share of BXLT they own. That values Baxalta shares at $45.23, which is nearly 22% higher than BXLT's recent price of $37.60.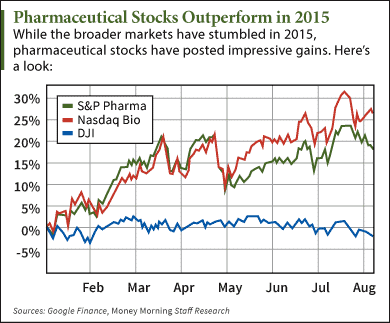 Baxalta develops rare-disease treatments. It's the perfect target for Shire, which has been focusing more on treatments for diseases with fewer patients. Rare-disease drugs typically come with a higher price tag. They're also frequently fast-tracked for FDA approval.
The Shire-Baxalta deal is just the latest in a string of hostile takeovers in 2015.
More than $383 billion has been offered in unsolicited takeover offers this year, according to Dealogic. That's the highest since 2007, when the total reached $818 billion.
The healthcare sector has been at the forefront of this year's M&A craze. According to PricewaterhouseCoopers, the "life sciences" field had 35 M&A deals in Q1 2015. The life sciences industry is made up of pharmaceuticals, medical devices, biotech, diagnostics, and contract-research organizations.
Those deals totaled $166.3 billion. That's more money than was spent during all of 2014, which saw M&A activity total $150.1 billion. In Q1 2014, just $46.5 billion was spent.
"As sectors like healthcare continue to consolidate and prime acquisition targets are quickly being acquired, companies are feeling pressured to be more aggressive and making unsolicited bids, even if it becomes a messy fight," Sullivan & Cromwell LLP's M&A lawyer Frank Aquila told The Wall Street Journal.
Money Morning Defense & Tech Specialist Michael A. Robinson has been following this trend since 2014. He knew the world's top pharmaceutical companies would continue their M&A binge, and he recommended an investment to play that wave.
"M&A deals will remain a big driver for the whole healthcare industry," Robinson said in February. "The pickup in M&A activity will translate into healthy bonuses for bankers and lawyers, certainly, but it will also continue accelerate stocks in the biotech and pharmaceutical sectors way past the overall market."
Robinson's pick has already climbed 17.6% this year and still has plenty of room to run...