Another possible deal between two of the world's top pharmaceutical companies was announced this week when Shire Plc. (Nasdaq: SHPG) made an unsolicited offer of $30.6 billion for Baxalta Inc. (NYSE: BXLT).
Shire will offer Baxalta shareholders 0.1687 shares of SHPG for every share of BXLT they own. That values Baxalta shares at $45.23, which is nearly 22% higher than BXLT's recent price of $37.60.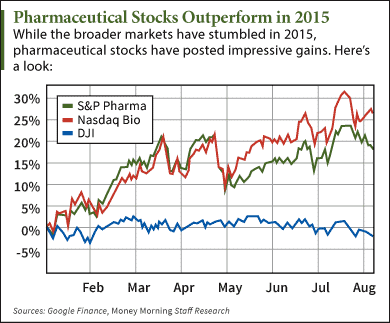 Baxalta develops rare-disease treatments. It's the perfect target for Shire, which has been focusing more on treatments for diseases with fewer patients. Rare-disease drugs typically come with a higher price tag. They're also frequently fast-tracked for FDA approval.
The Shire-Baxalta deal is just the latest in a string of hostile takeovers in 2015.
More than $383 billion has been offered in unsolicited takeover offers this year, according to Dealogic. That's the highest since 2007, when the total reached $818 billion.
The healthcare sector has been at the forefront of this year's M&A craze. According to PricewaterhouseCoopers, the "life sciences" field had 35 M&A deals in Q1 2015. The life sciences industry is made up of pharmaceuticals, medical devices, biotech, diagnostics, and contract-research organizations.
Those deals totaled $166.3 billion. That's more money than was spent during all of 2014, which saw M&A activity total $150.1 billion. In Q1 2014, just $46.5 billion was spent.
"As sectors like healthcare continue to consolidate and prime acquisition targets are quickly being acquired, companies are feeling pressured to be more aggressive and making unsolicited bids, even if it becomes a messy fight," Sullivan & Cromwell LLP's M&A lawyer Frank Aquila told The Wall Street Journal.
Money Morning Defense & Tech Specialist Michael A. Robinson has been following this trend since 2014. He knew the world's top pharmaceutical companies would continue their M&A binge, and he recommended an investment to play that wave.
"M&A deals will remain a big driver for the whole healthcare industry," Robinson said in February. "The pickup in M&A activity will translate into healthy bonuses for bankers and lawyers, certainly, but it will also continue accelerate stocks in the biotech and pharmaceutical sectors way past the overall market."
Robinson's pick has already climbed 17.6% this year and still has plenty of room to run...
Profit from the Top Pharmaceutical Companies with This One Investment
[epom key="ddec3ef33420ef7c9964a4695c349764" redirect="" sourceid="" imported="false"]
The investment Robinson recommends is the SPDR S&P Pharmaceuticals (NYSE Arca: XPH) ETF. It's composed of some of the top pharmaceutical companies on the market and several aggressive small caps.
"XPH is not an M&A fund - but it's a great way to take advantage of the trend," Robinson said. "This ETF focuses on the industry's bread and butter: high earnings."
"And many companies in the fund's portfolio will likely end up growing through mergers. Or they could become targets themselves."
The ETF has 40 holdings with an average market cap of $37.5 billion. Some of its top holdings include:
Eli Lilly and Co. (NYSE: LLY) stock has gained 22.2%, compared to a loss of 2% for the Dow Jones in the same time.
Jazz Pharmaceuticals Plc. (Nasdaq: JAZZ) has watched its stock gain 14.9% in 2015.
Allergan Plc. (NYSE: AGN) is one of the biggest winners with a gain of 29.2% year to date.
In the last 12 months, XPH has climbed 32.9%. The Dow Jones and S&P 500 are up just 6.3% and 9%, respectively, in that time.
"The beauty of a play like this one is that rather than try to pick a single winner, we get the benefit of the entire sector's operations," Robinson said. "That makes XPH an excellent foundational investment to pave your road to wealth."
By investing in an ETF, you also mitigate the risk of picking just one of the top pharmaceutical companies on the market.
The Bottom Line: The proposed merger between Shire and Baxalta is the latest in 2015's massive trend of pharmaceutical mergers. This underscores the profit opportunity we've been detailing all year at Money Morning. The SPDR S&P Pharmaceuticals ETF is one of the best ways to profit from the world's top pharmaceutical companies and their massive deals. The ETF is up 32.9% in the last 12 months with room to run.
Follow us on Twitter @KyleAndersonMM and @moneymorning.
Like us on Facebook: Money Morning.
Profit Alert: Since Money Morning Executive Editor Bill Patalon launched his Private Briefing program just a few short years ago, he's recommended 192 stocks that have either doubled or tripled in value. The service has completely revolutionized the way people invest. Keep reading to find out more about his extensive research and premium stock picks...