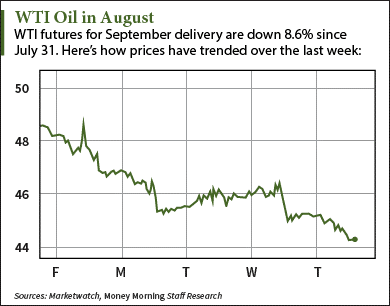 Why WTI crude oil prices are down today, Aug. 6, 2015: WTI crude oil prices dropped today (Thursday) as concerns about the Chinese stock market and excess supply perpetuate oil's month-long free fall.
At 12 p.m., WTI crude oil prices were down 1.93% to $44.28 a barrel. The U.S. benchmark is on track for its lowest settlement since March when it hit $50.57 a barrel. Futures saw a drastic sell-off last month, falling 21.2% from June 30 to July 31.
Brent crude oil prices were slightly less volatile. The international benchmark ticked down 1.19% to $49 a barrel, a level not seen since January. Brent tumbled 18.6% in July.
One reason WTI crude oil prices are down today is China's crashing stock market. The country's benchmark Shanghai Composite Index plummeted 14.3% in July. That marks its worst month since 2009 after roughly one-third of Chinese investors abandoned the markets altogether. Since China is one of the largest oil consumers in the world, the country's turmoil reduces demand and lowers oil prices.
Another reason is the U.S. Energy Information Administration's (EIA) latest weekly supply report. The agency stated U.S. oil production rose by 52,000 barrels to 9.5 million barrels a day during the last week of July.
Goldman Sachs Group Inc. (NYSE: GS) said in a note today the global oil market is oversupplied by 2 million barrels a day. It warned that prices could keep tumbling into the autumn months as storage facilities around the world start to run out of room.
"The rebalancing of supply and demand will likely prove to be far more difficult than what was previously priced into the market," Goldman's note stated.
But that couldn't be further from the truth. According to Money Morning Global Energy Strategist Dr. Kent Moors, supply is about to start drastically shrinking in the coming months.
And as supply falls, prices will rise…
Why WTI Crude Oil Prices Will Move Higher This Year