The Dow plunged 1,089 points Monday on the open, prompting investors to ask us, "Will the stock market shut down today?"
You see, if markets fall far enough, circuit breakers kick in and halt trading.
Markets were spared from a circuit breaker trip today. The Dow pared losses Monday afternoon, but only after its largest one-day point decline ever on an intraday basis. Just before 1 p.m., the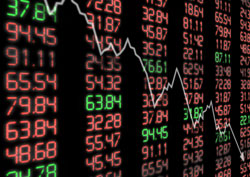 Dow was down 180 points, or 1.1%. The S&P 500 was off 1.35%, and the Nasdaq was lower by 0.93%.
While a circuit breaker trigger was averted Monday, market volatility will continue, and there will be more major down days ahead. Here's what has to happen for the stock market to actually shut down...
Will the Stock Market Shut Down? Turn to Rule 48
After the Dow, S&P 500, and Nasdaq futures fell at least 5% in pre-market trading Monday, the New York Stock Exchange deployed the rarely used "Rule 48" in an attempt to ensure orderly trading.
Invoking Rule 48 means designated market makers don't have to disseminate price indications before the opening bell in an effort to make it easier and faster to open stocks. It's intended for times when potentially extreme market volatility could have a floor-wide impact, according to the NYSE.
The rule was first approved by the U.S. Securities and Exchange Commission in December 2007.
To invoke Rule 48, an exchange must determine that the day's market conditions could create major disruptions. That includes anything from volatility in the previous day's session to extreme volatility in foreign markets to substantial futures action.
But that's not the only thing that can shut down the stock market. "Circuit breakers" also play a key role...
How Stock Market Circuit Breakers Work