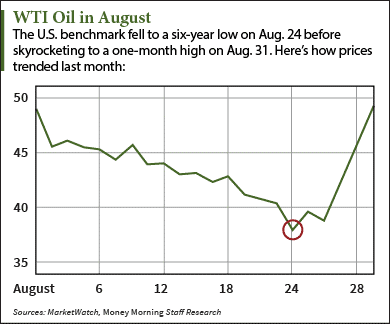 Oil Price Forecast 2015: The WTI crude oil price is coming off one of the most volatile months since the Great Recession.
WTI crude oil prices gained 3.5% in August. But the U.S. benchmark saw a 20% drop during the first three weeks followed by a 29% surge during the last week. On Aug. 31, WTI oil prices skyrocketed 7.5% to settle at $49.20 a barrel. That marked the highest settlement since July 21. It also capped off the largest three-day rally since Iraq's invasion of Kuwait in 1990.
Today (Sept. 1), WTI futures for October delivery are down 5.8% and trading at $46.34. Brent crude oil prices have fallen 5.9% to $52.49 a barrel.
It's no surprise that the oil prices have trended downward in 2015. All of the news concerning weakened Chinese demand, bearish supply reports, and OPEC's unflinching production has sent oil down 20.3% since January.
But the good news is this crash is near a bottom. That's because a number of factors will push oil prices higher by the end of the year. Here's our oil price forecast for 2015…
Oil Price Forecast 2015: M&A Will Strengthen the Market
One of the biggest factors will be mergers and acquisitions (M&A). According to Money Morning Global Energy Strategist Dr. Kent Moors, the low price environment is ushering in a wave of M&A activity that will strengthen the sector and drive prices higher.
We've already seen it with the Shell-BG Group and Schlumberger-Cameron deals…
On April 8, Royal Dutch Shell Plc. (NYSE ADR: RDS.A) acquired BG Group Plc. (OTCMKTS ADR: BRGYY) for $70 billion. The deal is the largest energy merger in more than a decade and will create the world's largest producer of liquefied natural gas (LNG).
"The Shell-BG [transaction] is the first clear megamerger option crossing the oil-gas division," Moors noted back in April. "We will see more of these as the new energy balance among a widening number of energy sources kicks in."
Another massive merger just happened last week in the oilfield services (OFS) sector. Schlumberger Ltd. (NYSE: SLB), the world's largest OFS company, snatched up competitor Cameron International Corp. (NYSE: CAM) for $12.74 billion. It's the second-largest OFS merger since Halliburton Co.'s (NYSE: HAL) $34.6 million buyout of Baker Hughes Inc. (NYSE: BHI).
Consolidation is expected to continue throughout the year, but targeting M&A is just one of three methods Moors recommends for finding the best oil stocks to buy.
Here's his three-part strategy that will lead you to energy profits no matter what the price of oil is…
Alex McGuire is an associate editor for Money Morning who writes about energy. Follow him on Twitter at @AlexMcGuire92 for all the biggest oil prices forecasts.
Editor's Note: According to CIA Asymmetric Threat Advisor Jim Rickards, there are five "flashpoints" that signal the death of the U.S. dollar and a complete economic collapse in the United States. Here's how you can protect yourself, and your money, before it's too late…