After spiking to a four-year high in July amid massive military staff cuts, monthly job layoffs slipped by more than 60% in August. Still, the year-to-date count is up notably compared to August 2014...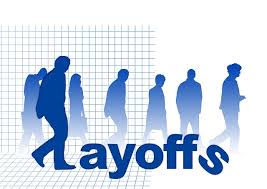 U.S. employers announced plans to trim headcount by 41,186 last month, according to a report Thursday from global outplacement consultancy Challenger, Gray & Christmas Inc. That was a 61% decline from the staggering 105,696 layoffs in July. The July tally was the highest since September 2011, when monthly job cuts hit 115,730.
While the month over month figure was a marked improvement, the August count was 2.9% higher than the same month a year earlier. That's when 40,010 pink slips were handed out. The August amount also marked the seventh month this year (out of eight) that the layoff total was higher than the comparable month in 2014.
Year to date, employers have announced 434,554 job cuts. That's a hefty 31% increase from the 332,931 planned layoffs in the first eight months of 2014.
With 2015 monthly totals averaging 54,319, U.S. job layoffs are on pace to surpass 650,000 for the year. That would be the highest year-end tally since 2009 (1,272,030).
These Sectors Had Biggest Job Layoffs
The retail sector was hit hard job in August, with 9,601 planned layoffs reported during the month. Most of those were related to the bankruptcy of east coast supermarket chain A&P. The grocery retailer is shuttering more than 100 stores and laying off a reported 8,500 workers by Thanksgiving.
The retail sector has announced 57,363 job cuts so far in 2015. That's a whopping 90% increase over the 30,109 job cuts announced by this point in 2014.
"Going forward, the recent volatility in the stock market may have a negative impact on retail sales, as investors who took a hit curtail spending," Challenger said in a statement. "However, retailers may be reluctant to shed too many workers as we head into the holiday season. Overall, we have not seen any job cuts attributed to the stock market's swoon. We are more likely to see cuts resulting from the underlying cause of the volatility, which is the weakening economy in China and other developing nations."
Layoffs in the oil patch appear to have abated. In the first four months of 2015, the United States saw more than 68,000 job cuts in the sector. Since May, however, fewer than 14,000 layoffs have been attributed to oil prices.
Since January, the oil industry has slashed 71,628 jobs. That's up from 8,052 during the same timeframe last year.
"It is too soon to say if we have seen the last of the big oil cuts," Challenger said. "As we head into the final months of 2015, there are definitely some red flags that suggest we may see more layoffs from the energy sector, as well as in other areas of the economy.  The problems that China is facing could send shockwaves throughout the global economy, including the United States."
Here's a look at a dozen notable layoffs announced in August.
August Job Layoffs
American Express Co. (NYSE: AXP) submitted notice on Aug. 26 it would terminate 86 employees at its Weston, Conn.-based Global Billing Services. These layoffs are the last in a round of terminations announced in September 2013 as part of the planned closure of American Express' Weston facility.
Baker Hughes Inc. (NYSE: BHI) on Aug. 31 said it laid off 28 workers at its Shreveport, La. facility. The job cuts are expected to be permanent.
Bank of New York Mellon Corp. (NYSE: BK) announced on Aug. 28 it will eliminate 280 positions in its Philadelphia Market Street offices. BK is one of the country's largest wealth managers, with $1.7 trillion in assets under management in total.
Caterpillar Inc. (NYSE: CAT) said on Aug. 25 it's laying off another 475 workers in its customer service operations, including 300 in the Peoria, Ill. area. In January, CAT let go 200 people at its East Peoria and Decatur facilities. In May, it laid off an additional 150 full-time production workers at the Decatur plant in response to weak demand for mining equipment.
Chevron Corp. (NYSE: CVX) announced on Aug. 13 that adverse market conditions have prompted it to lay off 56 workers in California's San Joaquin Valley, or 3% of its Bakersfield-based business unit.
Groupon Inc. (Nasdaq: GRPN) on Aug. 14 cut at least 20% of its staff in its restaurant software unit and also announced cuts inside Idell, its flash sale unit.
Kraft Heinz Co.'s (Nasdaq: KHC) merger, engineered earlier this year by legendary investor Warren Buffett, will cost some 2,500 people their jobs, according to an Aug. 12 announcement.
Keurig Green Mountain Inc. (Nasdaq: GMCR) said on Aug. 7 it will reduce headcount by 200 in Vermont amid poor earnings. The company said the job cuts are "part of our overall productivity program designed to reduce structural costs and drive efficiency in our business."
McDonalds Corp. (NYSE: MCD) reported on Aug. 6 it's laying off 135 people in its Oak Brook, Ill. headquarters. The job cuts are in addition to 128 corporate layoffs the fast-food giant has announced since December, bringing the total to 353 worldwide and 263 at its headquarters.
National Oilwell Varco Inc. (NYSE: NOV), which builds blowout preventers and other equipment for the oil industry, said on Aug. 3 its wellbore technologies unit is closing a facility in Willis, Texas, laying off 150 employees starting in mid-August. On Aug. 10, NOV announced it will cut 110 jobs in North Texas as it closes a fiber glass system facility in Mineral Wells through the end of the year.
NetApp Inc. (Nasdaq: NTAP) announced on Aug. 19 it will eliminate 500 jobs amid restructuring. The move came after the data storage company reported a loss of $30 million in the quarter ending July 31.
Tyson Foods Inc. (NYSE: TSN) announced on Aug. 14 it will slash 400 jobs at an Iowa processing plant, citing a shrinking cattle supply.
Stay informed on what's going on in the markets by following us on Twitter @moneymorning.