Revised Apple stock price predictions have shares rising from 50% to 74% from its current level of about $115.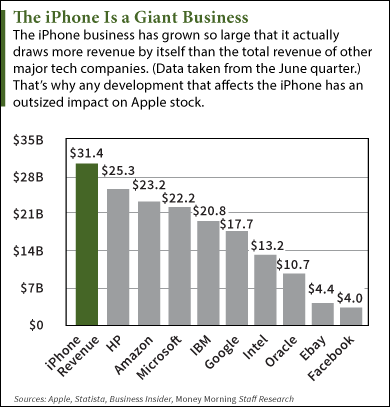 And what has analysts so excited isn't any of the new hardware Apple Inc. (Nasdaq: AAPL) announced last week, but a new way of selling the iPhone.
Such developments can have a huge impact on AAPL stock because the iPhone accounts for about two-thirds of the company's revenue.
Near the end of the Sept. 9 Apple Event, the company unveiled the iPhone Upgrade Program. Apple will essentially lease new iPhones for a monthly fee, starting at $32.41 for the least expensive model.
These iPhones will be provided unlocked so users can choose their own carrier. The iPhone Upgrade Program will help Apple stock in several ways.
It removes the concern of the carriers ending their phone subsidies while undermining customer loyalty to carriers like AT&T Inc. (NYSE: T) or Verizon Communications Inc. (NYSE: VZ). Instead, customers will be tied more tightly to Apple.
What's more, the program allows customers to upgrade to the latest iPhone every year at no extra cost. You need only trade in your old iPhone.
This provides an easy way for iPhone owners to make sure they'll always have Apple's latest and greatest. By cutting the normal two-year upgrade cycle in half, Apple will sell more iPhones to customers who want a new iPhone every year, while creating an inventory of more affordable iPhones it can sell in emerging markets as well as to customers on a budget in developed economies.
Amit Daryanani, an analyst with RBC Capital Markets, shared his math with Barron's. He figured that the average iPhone costs about $700 and costs the company $350 to produce – a 50% gross margin.
Here's where the iPhone Upgrade Program will make its biggest contribution to AAPL stock…