When I started Total Wealth, I promised that I would give you a blend of tips, tactics, and specific trading ideas to help you maximize your wealth based on the events of the day.
Today I'm going to keep that promise with a look at how to trade Volkswagen right now, using a brand new Total Wealth tactic I think you're going to love.
What I like about this trade is that it's easy to understand and even easier to implement.
Best of all, the trade I'm going to share with you today has the potential to turn a profit no matter whether the broader markets go up, down, or simply nowhere.
Let's get started!
VW's Fall Highlights Tremendous Profit Potential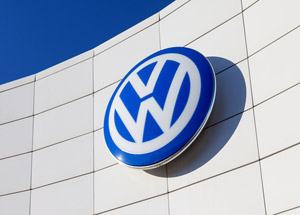 German auto giant Volkswagen AG (OTCMKTS ADR: VLKAY) has been clobbered on news that the company deliberately programmed more than 500,000 vehicles to emit lower levels of emissions during official testing than when they're on the road.
As if that wasn't enough, the company admitted Tuesday morning that internal investigations appear to involve another 11 million VW vehicles around the world. It's a betrayal of customers everywhere, who thought they were buying greener, energy-efficient vehicles – including yours truly.
I believe the appropriate German expression is: "Ach du lieber!"
The company's already set aside $7.3 billion in an effort to cover recalls, but the penalties could top $18 billion in the United States alone. Worldwide, the number could be double or even triple that amount, if investigations in South Korea, Britain, France, Italy, and other countries find similar problems.
The reputational damage to the VW brand, though, may represent an extinction-level event. Nobody is talking about that yet, but you can bet your farfegnugen that they will.
A 2010 joint study by Lin Bai of the University of Cincinnati College of Law, James Cox of the Duke University School of Law, and Randall Thomas of the Vanderbilt University Law School found that companies engaged in fraudulent behavior may suffer financial punishment at the hands of the financial markets averaging 7.5 times that of any legal penalties.
VW shares, as you might expect, have tanked. They're down 29% in heavy trading over the past few days. Almost a third of the company's value has simply vaporized.
Millions of investors, large and small alike, are reeling, with shares of BMW and Daimler taking corresponding hits of 6% and 7% respectively, simply because they're German-based, even though the issue does not affect their cars.
For most investors, this is the end of the road – pun absolutely intended. They can't imagine a way out, let alone how to profit from the situation.
But I can, and that's what I want to share with you today.
Introducing a New Total Wealth Tactic Perfectly Suited for "DieselGate"
Join the conversation. Click here to jump to comments…
About the Author
Keith Fitz-Gerald has been the Chief Investment Strategist for the Money Morning team since 2007. He's a seasoned market analyst with decades of experience, and a highly accurate track record. Keith regularly travels the world in search of investment opportunities others don't yet see or understand. In addition to heading The Money Map Report, Keith runs High Velocity Profits, which aims to get in, target gains, and get out clean, and he's also the founding editor of Straight Line Profits, a service devoted to revealing the "dark side" of Wall Street... In his weekly Total Wealth, Keith has broken down his 30-plus years of success into three parts: Trends, Risk Assessment, and Tactics – meaning the exact techniques for making money. Sign up is free at totalwealthresearch.com.