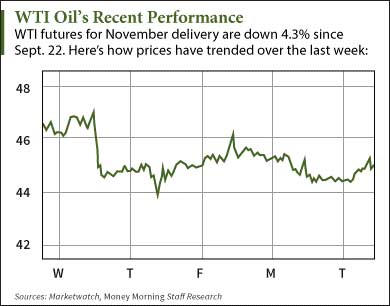 WTI crude oil prices climbed today (Tuesday) as investors bet on U.S. oil production dwindling throughout the rest of the year.
At 9:35 a.m., WTI crude oil prices were up 1.2% and trading at $44.96 a barrel. The U.S. benchmark has had a rough month so far, cratering 10% since Aug. 31. Futures have fallen 4.3% since last Tuesday.
Brent crude oil prices saw the same gains this morning. The international benchmark ticked up 1.2% to $48.60 a barrel. But Brent oil prices have still dropped 12.9% so far in September.
The reason WTI crude oil prices are up today is falling U.S. output. According to the U.S. Energy Information Administration (EIA), oil output peaked in April and has steadily declined since then. The most recent inventory report showed supplies fell by 1.9 million barrels during the week ended Sept. 18.
Although the decline in U.S. output should continue, OPEC is still growing to defend its market share. In August, OPEC oil production averaged 31.54 million barrels per day. That's up from 31.51 million barrels in July.
On June 5, the cartel said it would maintain a collective output of 30 million barrels a day. The decision marked the second time since November 2014 that OPEC defied the global supply glut and weak crude oil prices.
Now the cartel is desperate as the price crash challenges its oil-rich members like Iraq, Libya, and Venezuela. Their economies are largely upheld by oil export revenue, which significantly decreases when prices are as low as $45 a barrel.
With all of this turmoil within the cartel, people are wondering if OPEC will cut its output this year.
But there's one factor that will singlehandedly determine whether or not the cartel cuts production in 2015…
Alex McGuire is an associate editor for Money Morning who writes about energy. Follow him on Twitter for the biggest oil and gas updates.