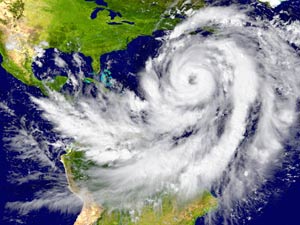 Hurricane Joaquin, the Category 4 storm currently battering the Bahamas with torrential rain and 130 mph winds, is set to hit the United States this weekend. It's the first major storm to reach the U.S. this year and is expected to affect the Mid-Atlantic and Northeast regions between Saturday and Monday.
For energy investors, the big question is: Will Hurricane Joaquin affect WTI crude oil prices?
Most hurricanes in the last 10 years have pushed WTI crude oil prices higher.
When Hurricane Katrina made landfall in August 2005, the U.S. benchmark jumped from around $75 to $80 a barrel (adjusted for inflation). Hurricane Isaac, which rocked Louisiana and Arkansas in August 2012, moved prices from $91 to $94.
That's because those storms mainly affected the Gulf Coast region, home to 17% of the country's total crude oil production. Oil rigs are forced to cease operations during violent storms as a precaution against flooding. The decline in output temporarily increases demand and boosts oil prices.
But with Hurricane Joaquin moving along the east coast and steering clear of the Gulf, can it have any impact on WTI crude oil prices?
Will Hurricane Joaquin Affect WTI Crude Oil Prices?
Hurricane Joaquin may push oil prices lower because it could flood refineries in the Mid-Atlantic and Northeast.
Refinery damage would cause power outages, slower gasoline production, and buildups in oil supply. The storm could also limit travel and curb gasoline demand until roads become safe again.
Hurricane Joaquin already comes at a bad time for U.S. oil refineries, which are set to begin seasonal maintenance this fall. That will further slow petroleum production and add to the excess supply, which is near its highest level in 80 years.
WTI crude oil prices were down 0.9% to $44.32 a barrel today (Friday) as Hurricane Joaquin heads north.
The Bottom Line: Will Hurricane Joaquin affect WTI crude oil prices? Right now, it's hard to predict how much damage the storm will inflict on the east coast. If the hurricane affects major coastal refineries, it will reduce petroleum production, cause a buildup of oil supply, and push oil prices lower.
Alex McGuire is an associate editor for Money Morning who writes about energy. Follow him on Twitter for all of the biggest oil and gas updates.
More on Oil Prices: Oil prices have crashed nearly 50% since last July. But oil volatility is hardly a new concept. Here's a timeline of the history of crude oil prices dating all the way back to the Civil War…