Bernie Sanders' donations topped $26 million last quarter, as he continues his race for the Democratic nomination. That's just below the $28 million Democratic front-runner Hillary Clinton raised during the third quarter.
What makes Bernie Sanders' donations so astonishing is the average    size of each gift.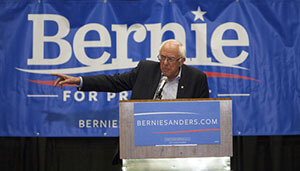 According to the Bernie Sanders campaign, the average donation size in Q3 was just $30. Campaign reps also said that 99% of all donations were smaller than $100.
In the last quarter, the Independent Senator from Vermont reported that 650,000 people had made more than 1.3 million donations.
One of Sanders' biggest messages throughout the campaign is that he does not accept money from "super PACs." Instead, he has relied heavily on online donations.
Sanders has followed a similar path throughout his political career. According to the Center for Responsive Politics, the biggest donation Sanders has received since 1989 is a total of $105,000 from the Machinists/Aerospace Workers Union.
The Bernie Sanders donations show how much of the U.S. public is shying away from politicians with endlessly wealthy supporters.
A Bloomberg Politics survey from September found that 78% of Americans want the Supreme Court's Citizens United decision overturned. The decision allows corporations to spend an unlimited amount of money on campaign donations "in support of political causes."
And the results from the survey were bipartisan. Roughly 83% of Democrats said they do not agree with the decision, along with 80% of Republicans. About 71% of independents were against the ruling.
The official Federal Election Commission (FEC) filings will not be published until late October, so we don't have donation totals on all candidates. But among Republican hopefuls, retired neurosurgeon Ben Carson reported an impressive $20 million in donations during Q3.
Continue following Money Morning for updates on all of the 2016 presidential candidates...
Protect Yourself from a Total Market Collapse: According to CIA Asymmetric Threat Advisor Jim Rickards, there are five "flashpoints" that signal the death of the U.S. dollar and a complete economic collapse in the United States. Here's how you can protect yourself, and your money, before it's too late...