Pharmaceutical companies have been raising the price of prescription drugs at an alarming rate since 2010.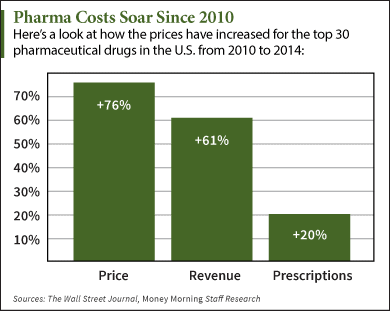 According to a new report from The Wall Street Journal, the 30 highest-selling drugs in the United States saw their prices increase roughly 76% from 2010 through 2014.
And the pharmaceutical companies behind these price boosts are seeing huge revenue increases. The report shows that these big pharma companies have seen revenue increase an average of 61% from those top 30 drugs. During the same time frame, the number of prescriptions filled climbed just 20%.
A similar report from Credit Suisse in May showed that the 20 leading global pharmaceutical companies saw roughly 80% of their profit growth from drug price increases.
By raising prescription prices, pharmaceutical companies are able to overcome disappointing drug trials.
"Pricing has covered up a multitude of other disappointments over the past 15 years [for pharmaceutical companies]," AllianceBernstein's Biotech Analyst Geoffrey Porges told The Journal.
The report comes at a time when many pharmaceutical companies have come under fire for exorbitant prescription prices. Martin Shkreli, CEO of Turing Pharmaceuticals, received the most flak when he raised the price of a life-saving medication by 5,000%.
While the data infuriates those who rely on these life-saving prescription drugs, pharmaceutical stocks continue to outperform.
Over the last five years, the SPDR S&P 500 Pharmaceuticals ETF (NYSE Arca: XPH) has soared 116%. Another ETF that invests in numerous pharmaceutical companies is the First Trust NYSE Biotechnology Index Fund (NYSE Arca: FBT). It's up 179% in the last five years. In the same time frame, the Dow Jones and S&P 500 are up just 54% and 72%, respectively.
Follow us on Twitter @moneymorning. Like us on Facebook: Money Morning.
Protect Yourself from a Total Market Collapse: According to CIA Asymmetric Threat Advisor Jim Rickards, there are five "flashpoints" that signal the death of the U.S. dollar and a complete economic collapse in the United States. Here's how you can protect yourself, and your money, before it's too late...
Related Articles: